Termignoni High Mount Dual Muffler 2-1-2 'FORCE' Full Exhaust for DUCATI 1199 / 1299 PANIGALE
---
Brand: Termignoni
Product Code:

D17009400ITC

Availability:

In Stock

Stock Quantity:

3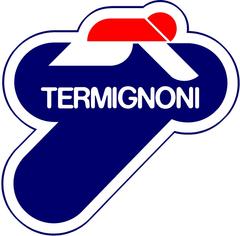 NEW AND ON SALE!!
Retail priced at $3339.95, but available now for just $2744.95!
Expected arrival is mid to late February, and these are shipping in limited quantities so place your order now!
You have seen this new, Termignoni Dual High Mount "FORCE" Titanium exhaust in use in WSBK, and BSB throughout the 2016 race season, and now it is ready for your bike!!!
Fitting all versions of the Ducati Panigale 1299 / 1199 (wont fit the 959 / 899 due to the swingarm) , this Drop Dead Sexy Beast of an exhaust is now available for your Drop Dead Sexy Beast of a bike!
The numbers are in, the verdicts are in. This is the system your Panigale NEEDS!
This all new design maximizes the potential power of your Panigale!
The 1299 shows a significant increase in power ( +4.6 Hp at 10.000 rpm) and torque (+ 0.81 Nm at 10.000 rpm) a the top end, and a Massive increase of +13.4 Hp at 5,400 rpm!
Can you say "Hello Midrange Power!!"
Overall The Power Graph is much smoother and more linear with no more dead spots!
Every WSBK team has realized that the original under-engine exhaust just doesn't put up the numbers necessary to win, and most street riders have realized that the original exhaust absolutely kills the mid-range power of this bike and needs to be replaced.
Here's how it works:
By removing the tight, 180 bends from the end of the under-engine exhaust, back pressure is significantly reduced. The exhaust system now flows gasses faster, and more efficiently through the significantly straighter - more open system.
Per

formance of

the exhaust is so significantly improved with this design, that it completely removes the HORRIBLE midrange dead spot.
The Headers are a super light Stainless Steel made in that Special Way that only Termi can do to eliminate weight and still retain strength, while keeping your costs down, But you can also choose the Full Titanium REPARTO CORSE Header kit as well!
Mufflers are made in carbon and titanium CUNB, the same Material used by the Termignoni Reparto Corse to make their factory MotoGP racing exhausts. CUNB is a special titanium alloy that has excellent formability in ambient temperature and high mechanical strength even after 600 °C and resists oxidation above 800 °C.
This allows them to significantly reduce the weight, while still providing a high level of performance and durability for the exhaust, much higher than the systems made of a commercial titanium alloy.
NOTE: The Original Plate Mount, Passenger Rearsets and Key for Rear Seat/ Cowl Removal are not usable. Aftermarket Kit is Available in the drop down

NOTE: There will be an Opening in the Original Body Work due to removal of the Original Style Exhausts. We will have a Carbon Fiber Belly pan available from Carbonvani or you can use the Original Belly Pan off the European/Asian Spec 959 with the Side Mount Mufflers.
| Make | Model | Years |
| --- | --- | --- |
| ducati | 1199 panigale | 2012 - 2014 |
| ducati | 1199 panigale r | 2013 - 2017 |
| ducati | 1199 panigale s | 2012 - 2014 |
| ducati | 1299 panigale | 2015 - 2017 |
| ducati | 1299 panigale R FE | 2017 - 2018 |
| ducati | 1299 panigale s | 2015 - 2017 |
| ducati | 1299 superleggera | 2017 - 2017 |
| ducati | superleggera | 2014 - 2014 |
Tags: Termignoni, High, Mount, Dual, Muffler, 2-1-2 FORCE, Full, Exhaust, DUCATI, 1199, 1299, PANIGALE