QD Exhaust Twin GUNSHOT DARK MATTER Semi-Full Exhaust for the Ducati Panigale / Streetfighter V4 (Euro5)
---
Brand: QD Exhaust
Product Code:

ADUC0640029

Availability:

2-3 Weeks

Stock Quantity:

0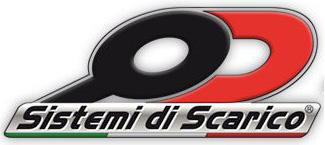 QD EXHAUST introduces their newest system for the DUCATI PANIGALE / STREETFIGHTER V4.
REJOICE MY FRIENDS!!!
V4 owners finally have a high exit exhaust option that still allows you to keep your plate mount AND passenger pegs if you want your significant other to be able to enjoy the ride with you!

The system uses the stock manifolds and it is composed by a double connection pipes 52mm diameter where are located 2 catalyst converters.
A 2 into 1 connection pipe merge the flows into a common pipe 60mm diameter where a valve, controlled by the stock servomotor, will lower the noise to the homologation limits.
The system ends with a double link pipe and 2 titanium silencers from the GUNSHOT DARK MATTER series, matt black ceramic coated with the pure GP Syle grids that hide the 2 db killers and the carbon fiber endcaps are the main features of the mufflers.
All the pipework is in stainless steel tig welded with gas injection to obtain a perfect inner surface, void all the gas turbulence and maximize the flow.
The system fits perfectly with the passengers footrests thanks to 2 small additional bracket supplied in the package that allow to relocate the footrests in a wider position.
A carbon fiber heatshield is in course of developing and will be released soon.
The power acheived with this system is impressive, 12HP at the rear wheel in racing configuration with a proper tune and in Race configuaration

As all the QD EXHAUST product this system is sold with a SERVICE CARD that allow the owner to a 30 months warranty program and to download the european certification.
QUAT D or QD Exhausts is a world leader when it comes to creating uniquely designed high performance exhaust systems. Made in Italy since 2012.

QD products are developed to offer the highest quality and performance for Your bike.
All fasteners are made ​​of AISI 304 stainless steel laser-cut and all welds are TIG.
Exhaust systems are dimensioned and calculated using sophisticated fluid dynamics software in order to provide maximum efficiency and performance.
All products are approved Euro4 and supplied with a removable catalyst (where required).

| Make | Model | Years |
| --- | --- | --- |
| ducati | panigale v4 | 2022 - 2023 |
| ducati | panigale v4 r | 2023 - 2023 |
| ducati | panigale v4 s | 2022 - 2023 |
| ducati | panigale v4 sp | 2022 - 2023 |
| ducati | streetfighter v4 | 2022 - 2023 |
| ducati | streetfighter v4 lamborghini | 2023 - 2023 |
| ducati | streetfighter v4 s | 2022 - 2023 |
| ducati | streetfighter v4 sp | 2022 - 2023 |
Tags: QD, Exhaust, Twin, GUNSHOT, DARK, MATTER, Semi-Full, Exhaust, Ducati, Panigale, Streetfighter, V4, Euro5