Attack Performance GP Triple Clamps for Ducati 748S 749S 916 998 998S 999 1098 (53-53mm SS)
---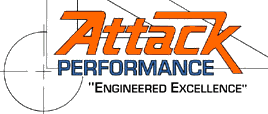 Attack Performance Triple Clamps for Ducati 748S, 749S, 916, 998, 998S, 999,1098 (with 53-53mm forks and short stem)

Attack Performance adjustable offset triple clamp are precision engineered to improve front end performance and feel, helping racers lower their lap times while pushing it to the next level.

CNC'd from the finest billet alloy, hand finished and hard anodized in your choice of light or dark finish. Attack triple clamps are incredibly lightweight yet rigid. Strong enough to protect and get the full potential out of the highest caliber racing forks. Available for a wide range of late model sports bikes, these triple clamp sets are probably the most cost effective tool for honing your race craft.

Designed to allow for more flex than the standard Attack clamps resulting in much better front end feedback giving the rider more confidence to push harder.
| Make | Model | Years |
| --- | --- | --- |
| ducati | 1098 | 2007 - 2008 |
| ducati | 748 | 1994 - 2002 |
| ducati | 749 | 2003 - 2006 |
| ducati | 749 dark | 2004 - 2006 |
| ducati | 916 | 1994 - 2000 |
| ducati | 996 | 1998 - 2002 |
| ducati | 998 | 2002 - 2004 |
| ducati | 999 | 2003 - 2006 |
Tags: Attack, Performance, Triple, Clamps, Ducati, 748S, 749S, 916, 998, 998S, 999, 1098, 53-53mm, SS