Attack Performance 54mm Damper Mount - Kawasaki, Suzuki, Triumph, Yamaha
---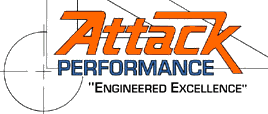 OK, you are switching out your triple clamp and clip-ons, and that is great, but what about the steering damper? Some times the mount for it gets deleted when you do this, and racing (or just daily street riding) without a damper is a very terrible idea!!!
Thankfully, Attack came up wit an ingenious solution! designed to work with their adjustable triples and clip-ons, but will also work with any other manufactures as well


Also available in fork leg sizes 52mm, 53mm, 54mm, 56mm, and 58mm.
| Make | Model | Years |
| --- | --- | --- |
| kawasaki | zx-10r | 2006 - 2010 |
| suzuki | gsx-r1000 | 2001 - 2006 |
| suzuki | gsx-r600 | 2001 - 2005 |
| suzuki | gsx-r750 | 2000 - 2005 |
| triumph | daytona 675 | 2007 - 2018 |
| triumph | daytona 675 | 2011 - 2018 |
| yamaha | yzf-r1 | 2007 - 2021 |
| yamaha | yzf-r1m | 2015 - 2021 |
| yamaha | yzf-r1s | 2016 - 2019 |
| yamaha | yzf-r6 | 2017 - 2021 |
Tags: Attack, Performance, 54mm, Damper, Mount, Ducati, Kawasaki, Suzuki, Triumph, Yamaha