Attack Performance Brake Lever Guard Kit
---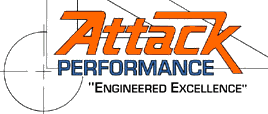 Remember when Loris Capirossi won the MotoGP World Championship back in 2006? Nope, me either. Probably because he lost valuable points in the championship after being taken out in the Catalunya GP by his team-mate Sete Gibernau due to a lack of lever guards!
Lever guards became mandatory for the 2012 MotoGP season, as well as various other championships such as World Superbike, MotoAmerica, etc., and can most likely be traced back to this incident. Hauling down the straight at triple digit speeds, Sete Gibernau made contact with Loris Capirossi, squeezing his brake lever to the point of lockup, which sent Sete over the bars and in the hospital.
The GT.Shield Lever Guards are latest inclusion to the racing and performance driven product line-up by Gilles Tooling. The main body is CNC'd from high end billet aluminum, and the guard extension is made from fiber glass reinforced plastic. Their innovative design leaves enough space at the bar end to allow your hands full freedom of movement, and the combination of construction materials provides the best performance in both stability and flexibility.
Don't be like Sete. Protect yourself and your investment with a brake lever guard today!
This kit Features an Outward springing end tip to allow for quick hand removal

The Attack Performance kit is designed to work with Attack's clip-ons, but it may work with other clip-ons as well

Tags: Attack, Performance, Brake, Lever, Guard Kit