FM Projects Slip-on Exhaust for Ducati Scrambler
---
Brand: FM Projects
Product Code:

FMD010RTS

Availability:

4-6 Weeks

Stock Quantity:

0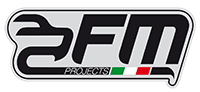 FM Projects, the luxury Exhaust producer from Italy, next to the famous 2-2 complete system "Racing" for the Ducati offers 1299/1199 Panigale, now also offers a slip-on for your Ducati Scrambler!

As was the case of the exhaust system for the Panigale, convinced FM again brilliantly built a High quality, innovative design and functionality.
A smooth finish on the exhaust in a silver color and
the Billet Aluminum Endcaps are perhaps the Coolest thing we have ever seen!
Not only is the slip on lightweight over the standard stock OEM exhaust, it also allows your Ducati to breathe freely giving more horsepower and a higher overall RPM range. Perfect performance upgrade for the casual fair weather rider or even weekend track day warrior.
Every FM Exhaust by nature comes with superb exhaust notes, giving your motorcycle that extra growl helping increase your safety on the road when filtering. This slip on needs to be heard in person to be appreciated!
The gain in terms of power is about 3.5HP up to 6HP when used in conjunction with a MWR airfliter and Rapidbike Tuning Module. The kit is supplied with a connector for fitting on the original collectors, Very easy to install with little tools required.

Available in Titanium or Stainless With your choice of a Black or Silver Billet endcap!

Weight: 1.3 kg for Titanium and 1.5 for Stainless (standard = 5.9 kg) Volume: 104 dB w/o db killer, 99 db with at 4125rpm (standard = 94 dB).
| Make | Model | Years |
| --- | --- | --- |
| ducati | scrambler cafe racer | 2017 - 2020 |
| ducati | scrambler classic | 2015 - 2018 |
| ducati | scrambler flat track pro | 2016 - 2016 |
| ducati | scrambler full throttle | 2015 - 2020 |
| ducati | scrambler icon | 2015 - 2020 |
| ducati | scrambler italia independent | 2016 - 2016 |
| ducati | scrambler mach2.0 | 2018 - 2018 |
| ducati | scrambler sixty2 | 2016 - 2020 |
| ducati | scrambler street classic | 2018 - 2018 |
| ducati | scrambler urban enduro | 2015 - 2016 |