FM Projects Titanium Short Slip On for Aprilia RSV4 1100 and Tuono
---
Brand: FM Projects
Product Code:

FMA001RTS

Availability:

4-6 Weeks

Stock Quantity:

0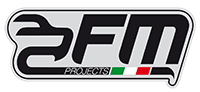 Looking for an exhaust that's Short and Mean?
Then FM Projects has just the slip-on for you!
Built to fit the Aprilia RSV4 1100 and Tuono 1100 models!!
This new release (May of 2020) FM Projects Titanium Short Slip On Exhaust for the Aprilia RSV4 1100 offers the ultimate, minimalistic muffler for the RSV4.

Please Note: For Race Use Only - If you plan to install this onto a Street bike, you may need to custom fabricate a Plate Holder / Indicator Bracket. It may not be street legal, and may not be very "passenger friendly" either...

| Make | Model | Years |
| --- | --- | --- |
| aprilia | rsv4 1000 factory | 2021 - 2021 |
| aprilia | rsv4 1100 factory | 2019 - 2021 |
| aprilia | rsv4 rf | 2017 - 2020 |
| aprilia | rsv4 rr | 2017 - 2021 |
| aprilia | tuono v4 1100 factory | 2017 - 2021 |
| aprilia | tuono v4 1100 rr | 2017 - 2021 |
Tags: FM, Projects, titanium, Exhaust, Aprilia, RSV4, Tuono, Tuono V4, 1100, Tuono, Short, Slip, On, Slip on, Slip-on,