MWR Performance Air Filter and Power Up Kit for Ducati Monster 696/796/1100
---
Brand: MWR Air Filters
Product Code:

MC-020-08

Availability:

In Stock

Stock Quantity:

9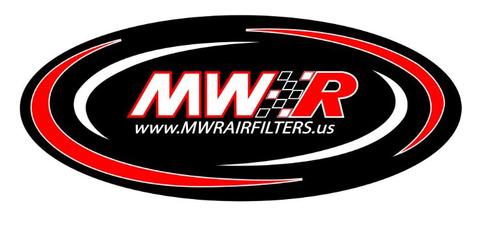 NOTE: You need both the Air Filter and the Power Up Kit for Maximum power. So purchase them together because purchasing Just the Airfilter or just the Power Up Kit will only give you that item, not both

This MWR Air Filter replaces the original filter and eliminates the need for the silly restrictive plastic cover for the airbox, allowing a dramatic increase in incoming air to your engine.
Thirsty for more power? Your bike is!
Simply add the MWR Power Up Kit to give those ram air vents in your plastic fuel tank covers a real purpose and significantly boost the power, and responsiveness of your engine. The 1100's gain the most, but even the Monster 696 shows gains of over 6HP on the dyno (see chart), so your 796 or 1100 will be REALLY HAPPY after this get's installed.
Requires cutting the airbox to mount the power up kit installation photo's shown. Instructions for mounting are as follows:
Step 1 - remove your original filter from the airbox. Step 2 - Stick a Screwdriver between the cover and the airbox, and break the cover loose (some force will be required to do this). Extra pic shown of airbox with cover removed. Step 3 - Make the holes (dremel is best, but a knife or hacksaw blade are equally useful for this task). Step 4 - Install the power up kit with the supplied hardware.
| Make | Model | Years |
| --- | --- | --- |
| ducati | monster 1100 | 2009 - 2011 |
| ducati | monster 1100 diesel | 2012 - 2012 |
| ducati | monster 1100 evo | 2012 - 2013 |
| ducati | monster 1100s | 2009 - 2011 |
| ducati | monster 696 | 2008 - 2014 |
| ducati | monster 795 | 2009 - 2014 |
| ducati | monster 796 | 2009 - 2014 |
Tags: MWR, Performance, Air, Filter, Power, Up, Kit, Ducati, Monster, 696, 796, 1100