MWR Performance Air Filter and Power Up Kit for Ducati Hypermotard / Hyperstrada 821 / 939 / 950 / SP
---
Brand: MWR Air Filters
Product Code:

MC-020-13

Availability:

In Stock

Stock Quantity:

13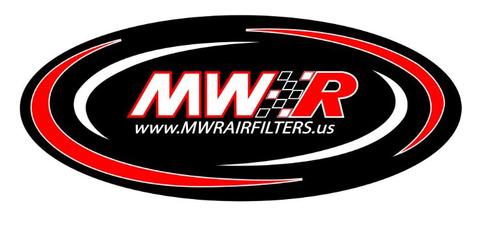 NOTE: The Power up kit does NOT fit the Hypermotard 950 - Airfilter only

NOTE: You need both the Air Filter and the Power Up Kit for Maximum power. So purchase them together because purchasing Just the Airfilter or just the Power Up Kit will only give you that item, not both
This MWR Air Filter replaces the original filter element with our high flow performance material that is able to be washed, and re-oiled up to 25 times before a replacement is needed.
Thirsty for more power? Your bike sure is!
Simply add the MWR Power Up Kit and let your engine breathe through an additional opening in the airbox, rather than only through the rather small original opening of no more than 3 square inches.
With dyno proven power gains of 8HP, and 5 ft lbs of torque for the filter and power kit combo, this is a serious improvement!
Requires cutting the airbox to mount the power up kit - do not worry, it is easy and rather straightforward. Mounting hardware is included.
| Make | Model | Years |
| --- | --- | --- |
| ducati | hypermotard 821 | 2013 - 2015 |
| ducati | hypermotard 821sp | 2013 - 2015 |
| ducati | hypermotard 939 | 2016 - 2018 |
| ducati | hypermotard 939sp | 2016 - 2018 |
| ducati | hypermotard 950 | 2019 - 2021 |
| ducati | hypermotard 950 sp | 2019 - 2021 |
| ducati | hyperstrada 821 | 2013 - 2015 |
| ducati | hyperstrada 939 | 2016 - 2016 |
Tags: MWR, Performance, Air, Filter, Power, Up, Kit, Ducati, Hypermotard, Hyperstrada, 821, 939, SP, 950