MWR Air Filter for Honda CBR500R, CB500X, & CB500F (2013+)
---
Brand: MWR Air Filters
Product Code:

MC-030-15

Availability:

In Stock

Stock Quantity:

2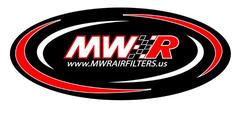 MWR Air Filters are built upon 2 decades of experience in developing and producing high performance air filters for road, race, and off road use.
This experience has been gained working with some of the biggest air filter companies in Europe in areas such as World MX, Dakar (bikes, cars and trucks), Moto GP, WSB, BSB, AMA and even Rallycross. The knowledge gained during this period was invaluable and led MWR to develop their range of performance foam filters.
The Performance Filter (MC-030-15)
This filter is a direct performance upgrade from your bikes standard filter. Offering better airflow and protection than the original, this filter will (when maintained correctly) last the life of your bike, simply clean and re-oil once a year.
The Full Race (RACE ONLY) air filter (MC-030-15-R)

Developed on the track, NOT on a dyno but in real life on bikes with Data-loggers being tested and developed in part with TOP Teams for ultimate performance. With new materials and a new design, protection is on the same level as the filters above, only for a shorter period of time before they must be serviced.

It makes the bike stronger and smoother, therefore it saves tires and fuel. Check the air filter every race weekend and always start each race weekend with a well oiled filter. This air filter is not developed to reduce the inlet noise. Due to the design features of this filter we do not recommend it for road use.
IMPORTANT NOTE:
Due to the special design we created a very large opening so a modification to the airbox lid might be very clever to increase power even more compared to all other sportsfilters for this bike. WORLD SUPERBIKE TECHNICAL DIRECTOR Scott Smart has already this modification approved for the WSS300 class
Modification is quite simple make a hole of 80x80 mm in the middle of the airbox lid (see pictures attached to this post) . On one picture it is clearly to see the difference between stock airbox opening and opening according to our modification
Airbox mod can be done on both road and race bikes ...... but road bikes choose for the roadbike filter and race bikes choose for the racebike filter.
Fuel adjustments or the use of a RapidBike are necessary after the installation and modification

| Make | Model | Years |
| --- | --- | --- |
| honda | cb500f | 2013 - 2019 |
| honda | cb500x | 2013 - 2020 |
| honda | cbr500r | 2013 - 2020 |