Helite Turtle 2 Airbag Vest
---
Brand: Helite
Product Code:

TURTLE 2

Availability:

1-2 Weeks

Stock Quantity:

0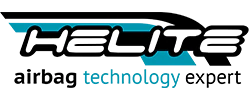 Helite Turtle 2 Airbag Vest
It's been 5 years since Helite released their groundbreaking Turtle airbag vest which integrated a hard outer shell of protection with Helite's life-saving airbag technology. Now, the future of airbag safety is getting an update!
Maintaining the Turtle's easy-to-use configuration and optimal airbag protection, Helite has decided to improve the design to better meet motorcyclists' needs and expectations.
The highest level of safety for motorcyclists, the Helite Turtle 2 Airbag Vest is practical, lightweight, and discreet. Helite Airbag technology can save a rider from serious injuries. The Turtle 2 guarantees absolute optimum protection without sacrificing comfort. It can be worn by anyone; man or woman, passenger or rider, and no matter if you ride a motorcycle, scooter, or ATV. Turtle Technology provides the highest level of back protection with a fully integrated SAS-TEC back protector. The Turtle 2 disperses the energetic force of any impact twice as well as the previous models. If a rider is wearing the Turtle 2 in an accident, the vest provides semi-rigid head and neck protection, as well as incredible support to the spine, chest, ribs, internal organs, and even provides direct hip and pelvic protection.
The Hi-Viz yellow is made for the best visibility during the day, and the silver reflective strips can be seen from an incredible distance when hit with light.
Available In 3 color options, Hi-Vis Yellow, Black and Hi-Vis Orange.