Motodemic Flyscreen by Dart
---
Brand: Motodemic
Product Code:

MK02100

Availability:

1-2 Weeks

Stock Quantity:

0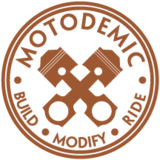 Utilizing Dart Flyscreens and our own Flyscreen Brackets, you now have some variety when it comes to installing a Flyscreen on your Motodemic equipped ride. Our Flyscreen comes in two styles, Classic or Short, and with brackets designed to work specifically with our headlight brackets used in most headlight conversions and custom applications with a 7 Inch headlight. Features adjustable side brackets that allow you to fine-tune the angle of the flyscreen for your specific install.
Screen Dimensions (WxH):
Classic: 10.24 x 10.43 in / 26 x 26.5 cm
Short: 9.76 x 8.38 in / 24.8 x 21.3 cm
What's Included:
Classic or Short high impact automotive-grade Makrolon polycarbonate screen
Black powder-coated aluminum brackets for our conversions and headlight brackets (see more below)
Stainless hardware
The grey ABS version is intended to be painted and is the correct choice if you want any other color than black. It will need to be primed with a suitable ABS primer – your local paint shop should be able to help.
The flyscreen brackets are specific to our conversions and headlight brackets (with signal holes) with a 7-inch headlight in what we call our "Metric" housing. This includes, but not limited to, our:
Ducati Monster Headlight Conversion – 696/796/1100
Ducati Monster Headlight Conversion – 821/1200
Street Triple Single Headlight Conversion
Speed Triple Single Headlight Conversion – '11-'15
Custom Headlight Brackets w/7 Inch Headlight in Metric Housing
FZ-07 Headlight Brackets w/7 Inch Headlight in Metric Housing
FZ-09 Headlight Brackets w/7 Inch Headlight in Metric Housing
GSXR Fork Headlight Brackets w/7 Inch Headlight in Metric Housing
| Make | Model | Years |
| --- | --- | --- |
| ducati | monster 1100 | 2008 - 2010 |
| ducati | monster 1100 diesel | 2012 - 2013 |
| ducati | monster 1100 evo | 2011 - 2013 |
| ducati | monster 1100s | 2008 - 2010 |
| ducati | monster 1200 | 2014 - 2016 |
| ducati | monster 1200r | 2016 - 2019 |
| ducati | monster 1200s | 2014 - 2016 |
| ducati | monster 696 | 2007 - 2014 |
| ducati | monster 795 | 2009 - 2014 |
| ducati | monster 796 | 2009 - 2014 |
| ducati | monster 821 | 2015 - 2017 |
| suzuki | gsx-r1000 | 2005 - 2008 |
| suzuki | gsx-r600 | 2006 - 2023 |
| suzuki | gsx-r750 | 2006 - 2023 |
| triumph | speed triple 1050 | 2011 - 2015 |
| triumph | street triple 675 | 2007 - 2016 |
| triumph | street triple 675r | 2009 - 2016 |
| yamaha | FZ-07 / MT-07 | 2014 - 2022 |
| yamaha | FZ-09 / MT-09 | 2014 - 2020 |
| yamaha | fz8 | 2010 - 2015 |
| yamaha | xsr700 | 2016 - 2022 |