BST Diamond TEK 5 Spoke Carbon Fiber Rear Wheel for the Kawasaki ZX-14 / ZX-14R - 6.625 x 17
---
Brand: BST
Product Code:

18009-8013-16-000

Availability:

4-6 Weeks

Stock Quantity:

0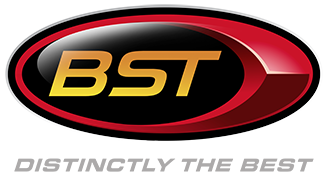 SIZE :

6.625" x 17"

WEIGHT :

9.6 lbs. (4.35 kg) with sprocket carrier and hardware (without sprocket)
ZX-14 OEM Rear Wheel Weight: 18.40 lb. (w/ ceramic bearings)
Add 1.05 lbs. (0.476 kg) with Worldwide Bearings ceramic bearings
Add 1.15 lbs. (0.521 kg) with Worldwide Bearings steel bearings

STATIC LOAD RATING :

550 lbs (250 kg)

MATERIALS :

Carbon fiber and aluminum

STYLE :

Slanted, five-spoke configuration

ANTI-SLIP COATING :

Standard

VALVE STEMS :

BST Ultra-High-Speed (UHS) 90-degree, aluminum stems and caps

APPROVALS :

DOT for street use 

FITMENT :

Direct OEM replacement 
What's New for the R-Series?
Brock?s Performance and BST announce their latest Carbon Fiber design, a wheel which has optimized the potential of carbon fiber for more extreme requirements. The result: a stronger wheel, optimized for anyone who is passionate about functionality and performance, on the track or open road. We took our standard carbon fiber wheel and added a newly designed rim flange that has been reinforced by 3mm, and then we added 1mm of thickness around the rim and spoke joints, the best part, the new R-Series increased in weight by an average of only 11 ounces!
Results from the JWL Certification Process for Impact Testing:
JASO T203 impact test rig at 5.9 inches, the new BST "R" Series passed at the following levels showing a 52.3% improvement over the standard wheel.

New "R" Series 3.5" x 17" Front Wheel:
1058 lbs @ 29 psi tire pressure

Standard 3.5" x 17" Front Wheel:
694 lbs @ 29 psi tire pressure     
Performance
Weighing between 40 and 60 percent less than OEM wheels, BST wheels bestow sportbikes with sharper corner-carving abilities, faster acceleration, and quicker braking by weighing less than their production-bike counterparts. Lighter wheels are also easier for suspension systems to control over bumps and irregular surfaces, yielding more traction and unimpeded acceleration. Less rotating mass also equals less rider fatigue.
A lighter rear wheel is easier for the shock to control properly, which leads to superior power application and much higher trap speeds in competition and track days.
Design
Using high-tech processes pioneered in the aerospace industry, BST wheels are manufactured in a single molding operation. This technique produces a wheel that is far superior in strength and much lighter than any aluminum or magnesium wheel, and one that is light and strong enough for racing and street use.
BST wheels are a unique monococque (single unit) design with hollow spokes. The end result is wheels with unsprung weight reduced 40-60 percent compared to stock wheels. This delivers the lowest possible moment of inertia, a critical factor that affects all aspects of motorcycle performance.
Maximizing the molecular and structural properties of carbon fiber, BST has reduced spoke and rim weight without compromising their strength. Mass is therefore concentrated in the hub, reducing rotational inertia. This results in quicker acceleration and braking, allowing faster corner entry and exit speeds.
Manufacturing
BST designs the tooling, molds, wheel and hubs, then manufactures them in its state-of-the-art factory. Precision cutting machines, like those used in the aeronautical industry, ensure that the process is repeatable and meets the highest certification standards. BST uses only the finest ?prepreg? carbon fiber, which is embedded in a top-secret resin matrix epoxy. Carbon-fiber layup is done in a dust-free and temperature-controlled ?clean room.? The wheels are cured in a superheated steam oven, or autoclave, at 260 degrees and 85 psi. This produces the best material compaction and smoothest surface finish. Every step of this process is logged, the entire history of each wheel is stored and stamped with a unique serial number. To ensure the highest quality manufacturing processes and components, BST?s entire operation is managed under strict, new ISO 9002 standards.
Materials
BST works with it's suppliers to ensure we get the best and most advanced materials for our wheels. Since December 2011 BST has been using carbon from Umeco Structural Materials (USM) that is impregnated with the EF1808 resin system explained like this:

"The EF1808 resin formulation resulted from a dedicated research program undertaken by USM to develop a significantly toughened epoxy prepreg resin with improved flow and handling characteristics, but without the reduction in temperature resistance that so often results. The development of the epoxy prepreg resin and the way it interacts with the continuous reinforcement fibers necessitated investigation of the resin polymers at the molecular level where measurements are made in millionths of a millimeter. This detailed understanding of the resulting composite structures was the key to achieving significant improvements in the product?s performance."

The new system in its fully cured condition displays improvements
of more than 30% in both damage tolerance and fracture toughness
(as measured by Compression Strength After Impact and G1c Fracture Toughness respectively) whilst maintaining its temperature
resistance (Tg).
About BST
Established in 1992, BST is based near Johannesburg, South Africa. BST engineers and manufactures the world's finest carbon fiber motorcycle components from wheels and frames to fuel tanks and fenders, to the highest international standards. The standard equipment wheels on Confederate and Norton motorcycles, BST was also chosen to provide wheels and produce the carbon-fiber frame on the radical MotoCyz project. On the world stage, BST wheels have been proven at every level of FIM Grand Prix roadracing competition and have won 12 national championships. BST has sold more than 8,000 carbon fiber wheels around the world.
| Make | Model | Years |
| --- | --- | --- |
| kawasaki | zx-14 | 2006 - 2011 |
| kawasaki | zx-14r | 2012 - 2021 |
Tags: BST, Black, Diamond, TEK, 5, Spoke, Carbon, Fiber, Rear, Wheel, Kawasaki, ZX-14, ZX-14R, 6.625, 17