Rizoma Stealth Mirrors for Naked Bikes
---
Brand: Rizoma
Product Code:

BSN010

Availability:

4

Stock Quantity:

4

IMPORTANT NOTE: YOU MUST ORDER THE CORRECT ADAPTER KIT FOR YOUR BIKE - USE LINKS BELOW
Why have these mirrors: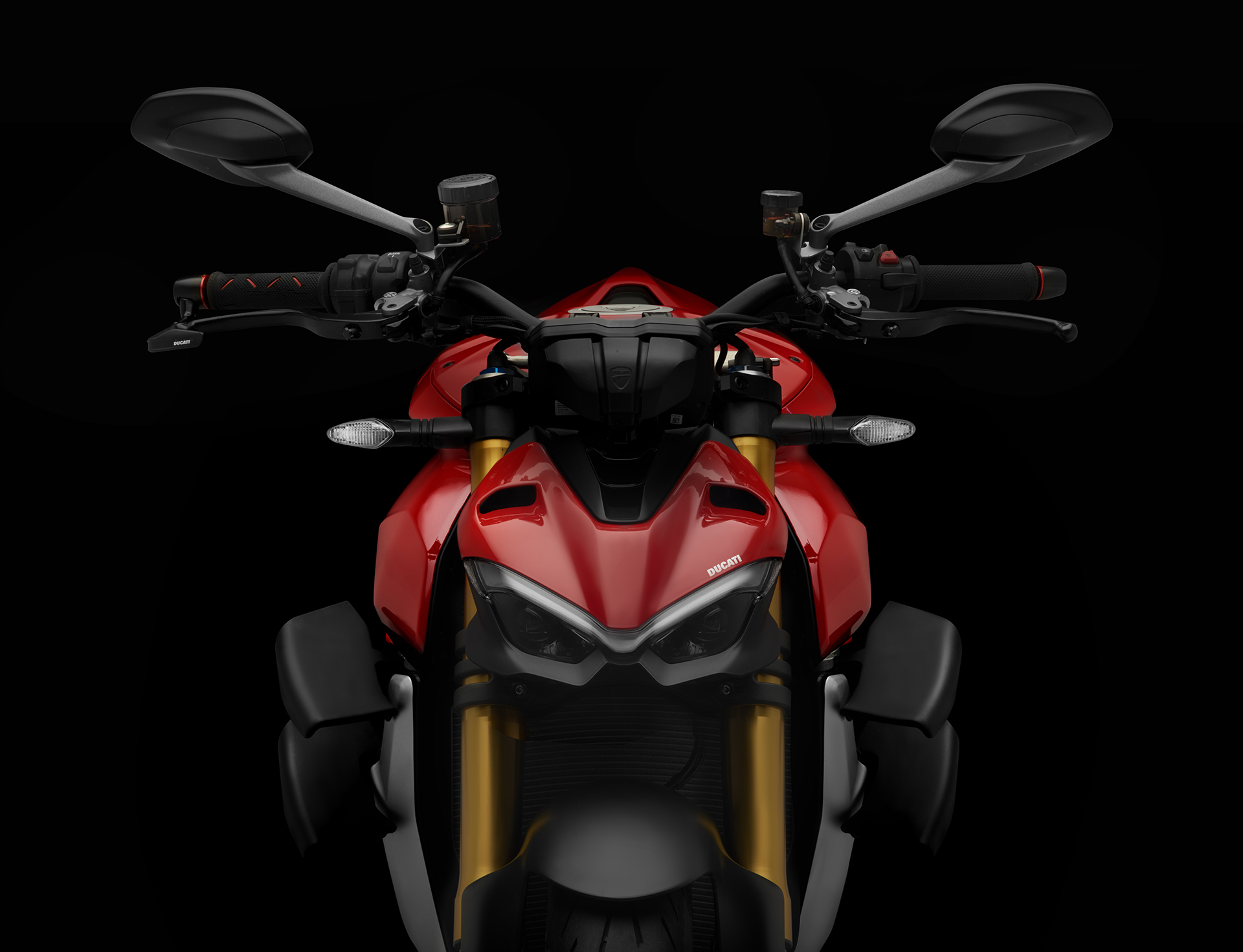 When you can have THESE mirrors: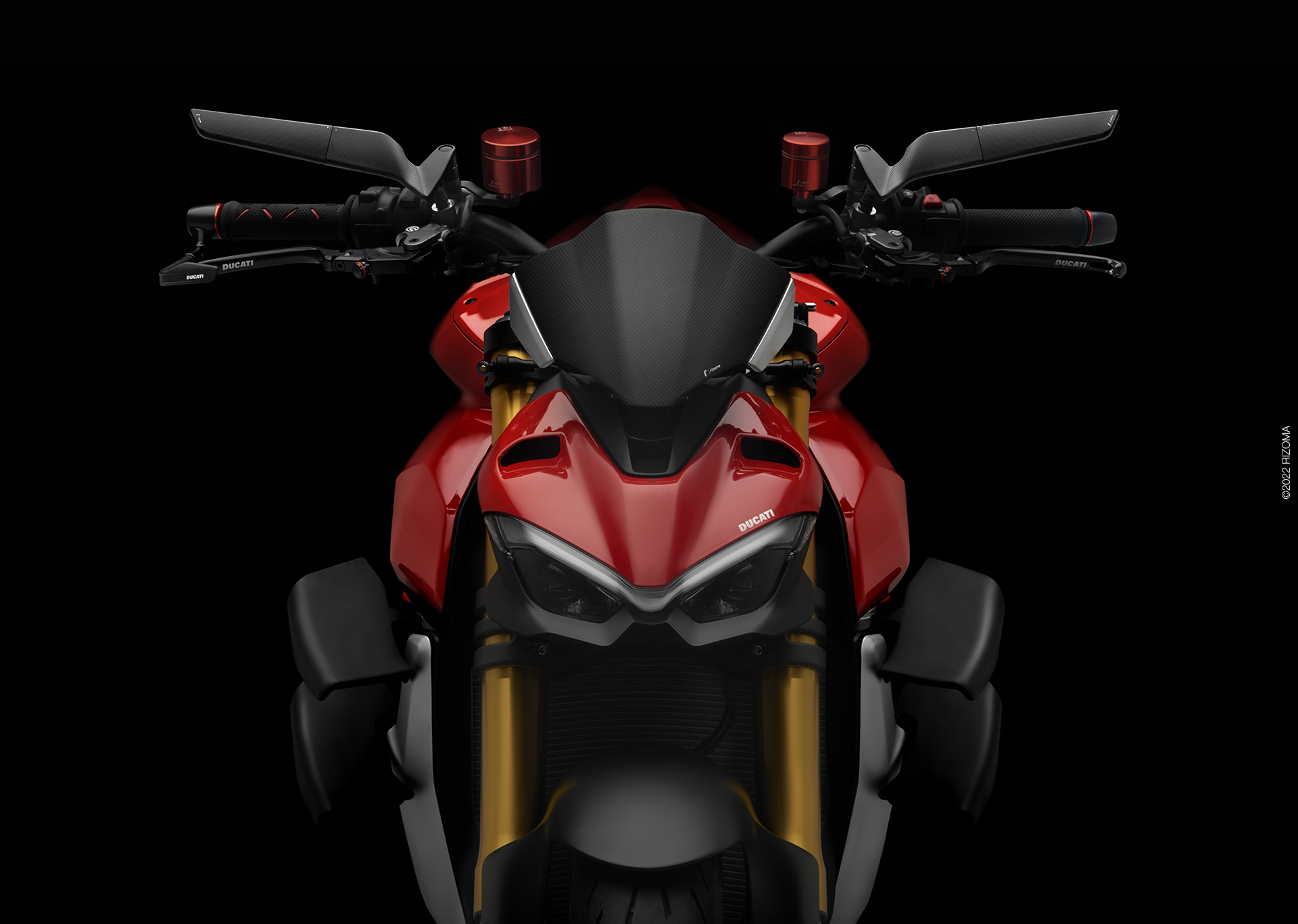 Out of the interface between racing experience and aeronautical inspiration comes a new mirror: STEALTH - specifically designed for supersport bikes now comes to the Naked Bike segment as well!. It consists of a fixed part, which allows the fitting directly to the fairing, and a movable part, which acts as a mirror glass holder. Beautifully machined and Anodized in three Colors, It is a Mirror that is functional in more than one way.
Thanks to a rotating system, by a simple movement, the two parts get aligned: in closed position the mirror becomes an aerodynamic foil. While the mirror glass holder is always the same, the fixed component is designed for Individual supersport bikes for which Stealth was developed, looking for the best solution to match the relative aerodynamic results.
Made of billet aluminum, it has a convex glass surface to provide a wider viewing angle (80% wider than flat glass) and is available in three different anodized colors and as a set
Stealth's design, with its wing-like shape and 25° angle relative to the ground, give it a linear look, ensure it generates downforce, in turn improving the bike's grip and handling performance, especially at high speed. Downforce pressure is around 4 kg at 300 km/h (8.8lbs at 186mph).

The ergonomics has been optimized as well: when the rider takes a sporty riding position, the mirrors are aligned with the rider's eye level. In this way, the rider does not have to raise his position to get a correct rear view, keeping the head protected by the headlight fairing and, therefore, by the pressure that impacts the face at high speed.
ADAPTER is REQUIRED - Fitment List:
BSN900B
DUCATI MONSTER 821 (2018-20)
HONDA CB650R (2021+), CB1000R (2018+)
HUSQUARNA VITPILEN 701 (2020)
KAWASAKI ZH2 (2021+), Z650 (2021+), Z900 (2021+)
KTM SUPER DUKE 1290 R / RR (2020+)
MV AGUSTA BRUTALE 800 / R / RC / RR (2017+)
SUZUKI GSX-S750 (2017-20), GSX-S950 (2021+), SV650 (2021+)
TRIUMPH SPEED TRIPLE 1200 RS (2020+), STREET TRIPLE RS (2020+), TRIDENT 660 (2021+)


BSN901B
SUZUKI GSX-S1000 (2021+)


BSN902B

DUCATI DIAVEL 1260 / S (2019+)
BSN903B
SUZUKI KATANA 1000 (2022+)
BSN905B
BMW F900R (2017+), F900XR (2021+),R NINE-T (2017+) BMW R NINE-T PURE (2017-22) ,R 1250 R (2021+), S1000R (2021+)
BSN906B
DUCATI Monster 1200/S/R (2017-21), Monster 937 (2021+), STREETFIGHTER V4 / S / V2 (2022)
MV AGUSTA BRUTALE 1000 / RUSH (2017+)
BSN907B
BMW CE04 (2022), G310R (2021+)

DUCATI Hypermotard 950/SP (2019+), SCRAMBLER 1100 (2019+) SCRAMBLER 800 (2021+)
HUSQUARNA SVARTPILEN 401 (2021+) , VITPILEN 401 (2021+)
KTM DUKE 790 (2018-20) KTM DUKE 890/R (2021-)
Yamaha FZ-07/MT-07 (2021+), FZ-09 / MT-09 (2019+) , FZ-10/MT-10 (2016+)
BSN908B
APRILIA Tuono 660 (2022+), Tuono V4/ Factory (2019+)


| Make | Model | Years |
| --- | --- | --- |
| aprilia | tuono 660 | 2021 - 2023 |
| aprilia | tuono v4 1100 factory | 2019 - 2023 |
| aprilia | tuono v4 1100 rr | 2019 - 2023 |
| bmw | ce 04 | 2022 - 2023 |
| bmw | f 900 r | 2017 - 2023 |
| bmw | f 900 xr | 2021 - 2023 |
| bmw | G 310 R | 2021 - 2023 |
| bmw | M1000r | 2023 - 2023 |
| bmw | r 1250 r | 2019 - 2023 |
| bmw | r ninet | 2017 - 2023 |
| bmw | r ninet pure | 2017 - 2023 |
| bmw | s1000r | 2021 - 2023 |
| ducati | diavel 1260 | 2019 - 2023 |
| ducati | diavel 1260 s | 2019 - 2023 |
| ducati | hypermotard 950 | 2019 - 2023 |
| ducati | hypermotard 950 sp | 2019 - 2023 |
| ducati | monster 1200 | 2017 - 2022 |
| ducati | monster 1200r | 2016 - 2019 |
| ducati | monster 1200s | 2017 - 2022 |
| ducati | monster 821 | 2018 - 2020 |
| ducati | monster 937 | 2021 - 2023 |
| ducati | monster 937 + | 2021 - 2023 |
| ducati | scrambler 1100 | 2018 - 2022 |
| ducati | scrambler 1100 pro | 2021 - 2023 |
| ducati | scrambler 1100 special | 2018 - 2021 |
| ducati | scrambler 1100 sport | 2018 - 2021 |
| ducati | scrambler 1100 sport pro | 2021 - 2023 |
| ducati | scrambler icon | 2021 - 2023 |
| ducati | streetfighter v2 | 2022 - 2023 |
| ducati | streetfighter v4 | 2020 - 2023 |
| ducati | streetfighter v4 lamborghini | 2023 - 2023 |
| ducati | streetfighter v4 s | 2020 - 2023 |
| ducati | streetfighter v4 sp | 2022 - 2023 |
| ducati | xdiavel | 2016 - 2022 |
| ducati | xdiavel s | 2016 - 2022 |
| honda | cb1000r | 2018 - 2023 |
| honda | cb650r | 2021 - 2023 |
| husqvarna | svartpilen 401 | 2021 - 2023 |
| husqvarna | vitpilen 401 | 2021 - 2023 |
| husqvarna | vitpilen 701 | 2020 - 2023 |
| kawasaki | Z H2 | 2020 - 2023 |
| kawasaki | Z H2 SE | 2022 - 2023 |
| kawasaki | Z650 | 2021 - 2023 |
| kawasaki | z900 | 2021 - 2023 |
| ktm | 1290 super duke r | 2020 - 2023 |
| ktm | 790 Duke | 2018 - 2020 |
| ktm | 790 Duke | 2023 - 2023 |
| ktm | 890 duke | 2021 - 2022 |
| ktm | 890 duke r | 2021 - 2023 |
| mv agusta | Brutale 1000 | 2017 - 2023 |
| mv agusta | brutale 800 | 2016 - 2022 |
| mv agusta | brutale 800 rc | 2017 - 2022 |
| mv agusta | brutale 800 rr | 2016 - 2023 |
| mv agusta | rush 1000 | 2020 - 2023 |
| suzuki | gsx-s1000 | 2021 - 2023 |
| suzuki | gsx-s1000f | 2021 - 2021 |
| suzuki | gsx-s1000gt | 2022 - 2023 |
| suzuki | gsx-s750 | 2017 - 2020 |
| suzuki | gsx-s950 | 2021 - 2023 |
| suzuki | katana 1000 | 2022 - 2023 |
| suzuki | sv650 | 2021 - 2023 |
| triumph | speed triple 1200 RR | 2021 - 2023 |
| triumph | speed triple 1200 RS | 2021 - 2023 |
| triumph | trident 660 | 2021 - 2023 |
| yamaha | FZ-07 / MT-07 | 2021 - 2023 |
| yamaha | FZ-09 / MT-09 | 2019 - 2023 |
| yamaha | fz-10 / mt-10 | 2016 - 2023 |