Motodemic 7 Inch Adaptive LED Pedestal Mount Headlight
---
Brand: Motodemic
Product Code:

M-8791A

Availability:

1-2 Weeks

Stock Quantity:

0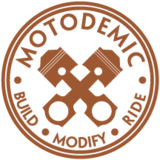 This Adaptive 7 Inch LED Headlight is a clean and simple solution for a custom build. No bucket needed with the pedestal mount integrated right into the rugged aluminum housing.
Onboard intelligence senses the lean angle while cornering to dynamically fill the dark inside corner (see photo). Similar to our Evo S, this Adaptive headlight produces clean, clear, LED lighting like what is found in some of the most advanced automotive headlights on the market today.

DOT and ECE Approved (symmetrical pattern) • MADE IN USA
Headlight only! Conversion kits and headlight brackets sold separately.
Adaptive Specs:
Made in USA
DOT and ECE Approved for all directions of traffic (symmetrical pattern)
Color Temperature: 5000K (daylight)
Lens Type: Polycarbonate
Power Draw: 24 watts on low 36 watts on high
5-year Warranty
40,000 Hour LED Lifespan Rating
Tags: Motodemic, 7, Inch, Adaptive, 2, LED, Round, Headlight