Motodemic 5.75 inch LED Headlight Upgrade Kit for Harley Davidson
---
Brand: Motodemic
Product Code:

MK10721

Availability:

1-2 Weeks

Stock Quantity:

0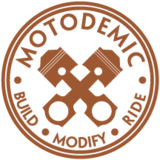 The ultimate lighting upgrade for your Harley with a 5 3/4 inch . Simple to install and completely plug and play.
DOT and/or ECE Compliant (symmetrical pattern) • MADE IN USA
Upgrade the lighting performance of your 5 3/4-Inch Harley Headlight with the Motodemic LED Headlight Upgrade. This upgrade directly replaces the poor performing reflector unit in your stock bucket with a premium LED unit that is made here in the USA by JW Speaker. The LED unit packs some of the best optics and lighting technology available and is a massive improvement over the stock headlight, without blinding other drivers on the road.
Available in our Evo S or Adaptive to suit your budget and night time riding needs. Both variations are completely plug-and-play, require no modifications or wiring.
Choice of Headlight (Adaptive LED or Standard LED)
Headlight Options
Both of thier LED headlamp options are made in the US by JW Speaker, one of the leading lighting manufacturers in the world (not some Crappy Chinese Company that is selling knock offs on EBay for next to nothing). Backed by an industry leading 5-year warranty. Both comply with DOT and/or ECE regulations for both right and left-hand travel.

Adaptive LED
The Adaptive 2, our most advanced LED Headlight. Designed by JW Speaker to specifically increase your nighttime safety and comfort. Onboard intelligence senses the lean angle while cornering to dynamically fill the dark inside corner (see photo). Similar to our Evo S, this Adaptive headlight produces clean, clear, LED lighting like what is found in some of the most advanced automotive headlights on the market today. Available in a Black or Chrome Inner Bezel.
Evo S LED
The new STANDARD. Our Evo S LED features the super wide and smooth beam pattern low beam optics from the highly praised Adaptive LED, with a little extra output done by using the latest in LED tech. Ride into the darkest backroads with a high beam package that puts out an amazing amount of throw in combination with the low beam due to them both staying on. This combination creates the best of both worlds to keep you riding with plenty of light at high speed, never out ride your light again. We finished the design off with a large, very bright, diffused front position optic to greatly increase your visibility to others on the road at all times. Available in a Black or Graphite Inner Bezel.
Headlight Specs:
DOT and ECE Approved
Color Temperature: 5000K (daylight)
Lens Type: Polycarbonate
Power Draw (each unit): 24.7 watts on low 41.6 watts on high
5-year Warranty
Tags: Motodemic, 5.75, inch, LED, Headlight, Upgrade, Kit, Harley, Davidson