AEM FACTORY - 'CARBON ENDURANCE 115' GAS CAP WITH QUICK RELEASE ACTION FOR Ducati Multistrada V4 / 1200 / 1260 / 950, Diavel 1260, and Hypermotard 950
---
Brand: AEM FACTORY
Product Code:

DU156

Availability:

9

Stock Quantity:

9


AEM FACTORY parts are all designed and made in Italy to the highest standards. Made with great attention to detail to achieve the best functionality and weight loss on every part, and of course great looks.

Fuel tank cap with a new carbon fiber flange, machined from billet aluminum colored components and a titanium tag with our logo as a cherry on top: we wanted to show how details can make the difference when producing hi-end parts for your beloved Ducati.
You can choose a standard finish, where the ring and the locking knob have the same color over the Carbon Black cap, but we know that customers love customizing options, so you can choose your favorite color for the 3 aluminum parts: the ring, the cap and locking knob.

Multiple color options!

Center cap and knob can each be: Silver, Black, Titanium, Red, Gold, or Dark Bronze.
OR you can go full custom with any of AEM's 16 colors - check out the Cool Italian Tri-Colore, Black and Steel, or DP Versions (custom made 4-6 weeks to get):
Silver, Black, Titanium, Red, Gold, Blue, Green, Champagne, Light Bronze, Dark Bronze, Light Smoke, Dark Smoke, Light Grey, Dark Grey, Orange, Purple, Light Blue, Hard Anodizing.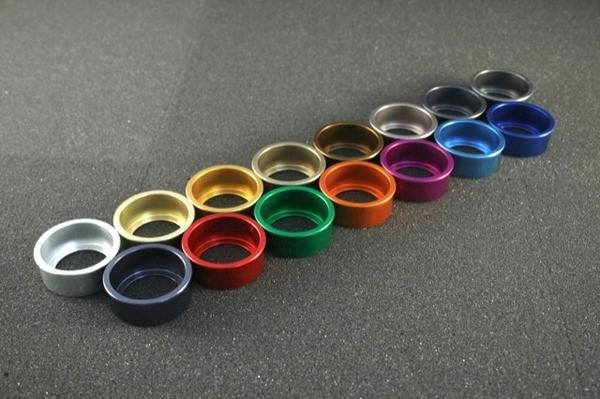 | Make | Model | Years |
| --- | --- | --- |
| ducati | diavel 1260 | 2019 - 2023 |
| ducati | Diavel 1260 Lamborghini | 2021 - 2021 |
| ducati | diavel 1260 s | 2019 - 2023 |
| ducati | hypermotard 950 | 2019 - 2023 |
| ducati | hypermotard 950 sp | 2019 - 2023 |
| ducati | multistrada 1200 | 2010 - 2017 |
| ducati | multistrada 1200 enduro | 2016 - 2018 |
| ducati | Multistrada 1200 enduro Pro | 2018 - 2018 |
| ducati | multistrada 1200 granturismo | 2013 - 2014 |
| ducati | multistrada 1200 pikes peak | 2012 - 2017 |
| ducati | multistrada 1200s | 2010 - 2017 |
| ducati | multistrada 1200s d air | 2015 - 2017 |
| ducati | multistrada 1200s sport | 2012 - 2014 |
| ducati | multistrada 1200s touring | 2012 - 2014 |
| ducati | Multistrada 1260 | 2018 - 2020 |
| ducati | Multistrada 1260 enduro | 2019 - 2021 |
| ducati | Multistrada 1260 Pikes Peak | 2018 - 2020 |
| ducati | Multistrada 1260 s | 2018 - 2020 |
| ducati | multistrada 950 | 2017 - 2021 |
| ducati | multistrada 950 s | 2019 - 2021 |
| ducati | multistrada v2 | 2022 - 2022 |
| ducati | multistrada v2 s | 2022 - 2023 |
| ducati | multistrada v4 | 2021 - 2022 |
| ducati | multistrada v4 Pikes Peak | 2022 - 2023 |
| ducati | multistrada v4 rally | 2023 - 2023 |
| ducati | multistrada v4 s | 2021 - 2023 |
| ducati | multistrada v4 s sport | 2021 - 2022 |
Tags: AEM, FACTORY, CARBON, ENDURANCE, 115, GAS, CAP, QUICK, RELEASE, ACTION, DUCATI, Multistrada, V4, 1200, 1260, 950, Diavel, 1260, Hypermotard, 950