QD Exhaust EX-BOX Complete System - DUCATI MONSTER 797 and SCRAMBLER 800 MODELS
---
Brand: QD Exhaust
Product Code:

ADUC0480007

Availability:

2-3 Weeks

Stock Quantity:

0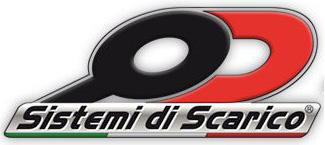 QD Exhaust EX-BOX Complete System - DUCATI MONSTER 797 and SCRAMBLER 800 MODELS

QUAT D or QD Exhausts is a world leader when it comes to creating uniquely designed high performance exhaust systems. Made in Italy since 2012.


QD products are developed to offer the highest quality and performance for Your bike.
All fasteners are made ​​of AISI 304 stainless steel laser-cut and all welds are TIG.
Exhaust systems are dimensioned and calculated using sophisticated fluid dynamics software in order to provide maximum efficiency and performance.
All products are approved E4 and supplied with a removable catalyst (where required).
Born back in 2004 when the factory was at his beginning, this exhaust changed the concept of exhaust in the world. Based on the resonance chambers concept this latest version, thanks to a renewed inner layout, acheives the euro4 standards.
The system is stainless steel made, sold complete of the header pipes with lambda plugs and 2 dbkillers into the outlet ports.
Moving the weight of the exhaust low on the bike will help the handling of the bike. This will also help clean up the bike and slim it down from the back side. Easy to install with simple hand tools. This
system sounds amazing and looks great as well.

Weighs 10 pounds less than the OEM system.
| Make | Model | Years |
| --- | --- | --- |
| ducati | monster 797 | 2017 - 2020 |
| ducati | scrambler cafe racer | 2017 - 2022 |
| ducati | scrambler classic | 2015 - 2018 |
| ducati | scrambler flat track pro | 2016 - 2016 |
| ducati | scrambler full throttle | 2015 - 2023 |
| ducati | scrambler icon | 2015 - 2023 |
| ducati | scrambler italia independent | 2016 - 2016 |
| ducati | scrambler mach2.0 | 2018 - 2018 |
| ducati | scrambler nightshift | 2021 - 2023 |
| ducati | scrambler street classic | 2018 - 2018 |
| ducati | scrambler urban enduro | 2015 - 2016 |
| ducati | scrambler urban motard | 2022 - 2022 |
Tags: QD, Exhaust, EX-BOX, Complete, System, DUCATI, MONSTER, 797, SCRAMBLER, 800, MODELS