FM Projects Racing Titanium and Carbon Fiber Long Slip On for Aprilia RSV4
---
Brand: FM Projects
Product Code:

FMA003RTS

Availability:

4-6 Weeks

Stock Quantity:

0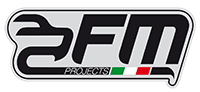 Beauty is in the eye of the beholder, and nothing proves it better than the FM Projects exhausts for the Aprilia RSV4 / Tuono 1100.


Personally I (Randy) love this version! It fits the size and shape of the bike beautifully!


Constructed from and it includes a carbon fiber heel guard and endcap



Please Note: This is a "Racing Use Only" Exhaust, if you plan to install this onto a Street bike, you may need to custom fabricate a Plate Holder / Indicator Bracket as it is not designed for road use. May not be very "passenger friendly" either...
| Make | Model | Years |
| --- | --- | --- |
| aprilia | rsv4 1000 factory | 2021 - 2021 |
| aprilia | rsv4 1100 factory | 2019 - 2021 |
| aprilia | rsv4 rf | 2017 - 2020 |
| aprilia | rsv4 rr | 2017 - 2021 |
| aprilia | tuono v4 1100 factory | 2017 - 2021 |
| aprilia | tuono v4 1100 rr | 2017 - 2021 |
Tags: FM, Projects, titanium, Exhaust, Aprilia, RSV4, Tuono, Tuono V4, 1100, Tuono, Long, Slip, On, Slip-On,