FM Projects GP Double Racing Slip-on in Titanium for Aprilia RSV4 1100 and Tuono
---
Brand: FM Projects
Product Code:

FMA002RTS

Availability:

4-6 Weeks

Stock Quantity:

0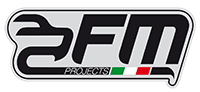 WOWZA this exhaust looks GREAT!
Unleash the true power and sound of your Aprilia RSV4 with the FM Project Exhaust for the Aprilia RSV4 1100 and Tuono 1100 models!!
This just released (January 20th, 2020) FM Projects Double Racing Slip On Exhaust for the Aprilia RSV4 1100 is designed to make HUGE gains in both power and torque!
Just look at the 3 dyno pulls and you'll see a consistent 9-12 HP gain over stock, plus a healthy increase of torque (from 5-18ft lbs) across the board.

Please Note: If you plan to install this onto a Street bike, you may need to custom fabricate a Plate Holder / Indicator Bracket. May not be very "passenger friendly" either...

| Make | Model | Years |
| --- | --- | --- |
| aprilia | rsv4 1000 factory | 2021 - 2021 |
| aprilia | rsv4 1100 factory | 2019 - 2021 |
| aprilia | rsv4 rf | 2017 - 2020 |
| aprilia | rsv4 rr | 2017 - 2021 |
| aprilia | tuono v4 1100 factory | 2017 - 2021 |
| aprilia | tuono v4 1100 rr | 2017 - 2021 |
Tags: FM, Projects, titanium, Exhaust, Aprilia, RSV4, Tuono, Tuono V4, 1100, Tuono,