MONIMOTO Smart Tracker for Motorcycles (GPS) Ver 7
---
Brand: Monimoto
Product Code:

MM7

Availability:

2

Stock Quantity:

2

Over 34000 Motorcycles have been stolen in the United States so far in 2020. Sadly only 15% have been recovered. Having been a victim himself, Lyle (our Parts Manager) understands this better than most, so when we heard about this Unit, we had to buy one and test it!
So we put our Money on the line for this item, and it WORKS!!!
Monimoto 7 is brand new Monimoto model. It's a smart GPS tracker for motorcycles, mopeds, scooters and other vehicles. The new Monimoto version is even smaller, easier to install and compact.
This model (Monimoto 7) uses LTE-M (LTE Cat-M1) network. At the moment Monimoto 7 is available and works only in the US. Network coverage updates will be available soon. It is powered by 2 long-life batteries, so even if the vehicle's battery is dead your ride will still be safe. Monimoto comes with an embedded eSIM card with 2 months FREE subscription.
For a good overview, check out the videos below, For a complete breakdown, keep reading
IT'S LOW MAINTENANCE
Monimoto Device is powered by 2 single-use, long-life batteries, so it doesn't rely on your motorcycle's battery power source like wired trackers do. It requires two CR123A batteries that can be purchased on Amazon or many major convenience stores.
VERY QUICK SETUP
A very quick and easy initial set up procedure via our iOS or Android mobile app wizard, which only takes about 10 minutes. All you need to do is remove plastic straps from the Key fob and the Monimoto device itself and set all things up on Monimoto App. Batteries and SIM card are already included (sim has 2 months prepaid included).
IT'S CHEAP
The sim card costs just $3.50 a month after the first 2 months which are included free of charge, it's a subscription you can cancel anytime (but you won't want to, it's a bargain for the service). There are NO OTHER FEES.

WIRELESS!
Monimoto is a compact, stand-alone Device, so there are no installation costs involved and it will not affect your motorcycle's warranty. This also means that you can easily move your Monimoto Device from one motorcycle to another.
CALLS YOUR PHONE
Monimoto calls your phone in less than 1 minute if movement is detected and there is no paired key nearby. Phone call is more effective in attracting owner's attention than just a push notification or text message.
IMPORTANT NOTE: We do not recommend you find your bike on your own. Always contact the local authorities for assistance - Your life is worth more than your bike!

SENDS GPS LOCATION COORDINATES
Monimoto sends its GPS location coordinates to your phone, should the motorcycle be moving and your paired Key is not around. Location details are sent to the App so you will also be able to see all the previous locations in the event log. GPS location is updated every 5 minutes when Monimoto is moving or every 1 minute if Live tracking mode is selected.
AUTO ARMS AND DISARMS
Monimoto Device auto-arms itself when you leave your motorcycle, and disarms as soon as it detects your paired Key fob. No need to set any geofences on the App or click any buttons on the Key fob whatsoever. This means you will never forget to activate or deactivate the Device.
WORKS GLOBALLY
Monimoto comes with the SIM that covers North America and Europe. It works with at least two different GSM service providers in most of the countries and with the help of Monimoto algorithm always chooses the strongest signal in the area.
WORKS WITH A MOBILE APP
Everything can be done from our mobile App for iPhone and Android phones: Adjust device sensitivity, pay for the GSM service, see battery level, contact Monimoto support and other Device management actions.
USES ADVANCED POSITIONING
Monimoto has a special technology for those cases when it's taken indoors and when GPS is not available in the area. We use CellLocate developed by U-blox. This technology determines the approximate location of Monimoto Device based on the distance from the surrounding GSM towers.
IS EASY TO INSTALL
Monimoto comes with releasable plastic zip ties so it can be easily attached to a motorcycle frame or other stable part. No need for complex installation manuals - you can do everything by yourself even if you don't have any technical knowledge.


HOW IT WORKS:
HIDE IT!!

Conceal your Monimoto Device securely on your motorcycle. If possible, try to put it in a way that the GPS antenna would be pointing upwards. Find the best position out of sight of unwelcome eyes - the more time a thief spends while searching for the Device,the better chances you have to prevent motorcycle theft or recover it if it's stolen.
MONIMOTO DISARMS WITH A KEY NEARBY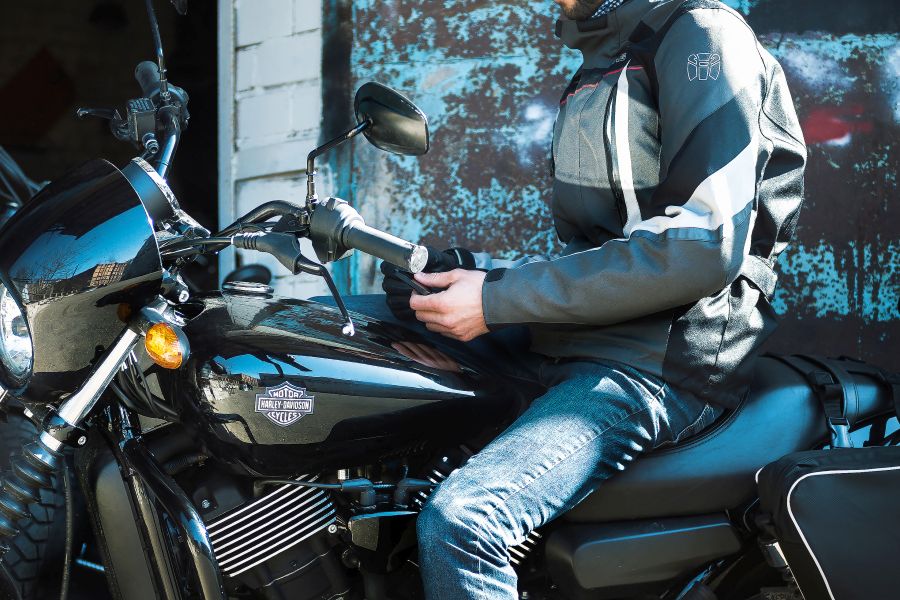 Monimoto Device disarms as soon as it detects your paired Monimoto Key nearby. So, there is no need for you to manually deactivate it - all you need to do is carry the Key with you. We suggest keeping it in your riding apparel pocket, separately from your main keys to reduce the chances of losing it.
MONIMOTO ARMS WITHOUT A KEY NEARBY

As soon as you leave your motorcycle and Monimoto Device can't detect your paired Monimoto Key nearby, it automatically Arms itself and gets ready to detect any movement - whether it would be a theft attempt or some kids trying to play with your motorbike.


MONIMOTO ENTERS ALERT MODE IF IT DETECTS MOVEMENT



As soon as Monimoto detects movement, while being in Armed mode, it tries to detect a paired Key - if it finds it, it assumes that it's the owner and Disarms itself, if not - then Monimoto Device enters Alarm mode and starts notifying its motorcycle owner about a possible theft.
MONIMOTO CALLS AND SENDS GPS LOCATION COORDINATES


Monimoto calls the motorcycle owner in 50 seconds after the movement has been detected and no paired key was found around. After that Monimoto starts sending motorcycle coordinates to the Monimoto App. It keeps updating the location periodically until the motorcycle stops.

Tags: MONIMOTO, Smart, Tracker, Motorcycles, GPS