MPL Tuning Clear Quiet Clutch Cover Type 2 for Ducati Dry Clutch
---
Brand: MPL Tuning
Product Code:

MPL-007-01-08

Availability:

1

Stock Quantity:

1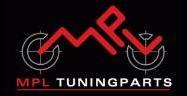 Love the look of your dry clutch Ducati?
Hate your dry clutch Ducati's sound?
Then we have a solution for you! The MPL Tuning clutch cover is available in your choice of 2 colors, and 2 styles. Machined from solid billet aluminum and featuring an impact resistant viewing window, these clear clutch covers drastically reduce the sound of an open clutch, but still allow you to show off that fancy colorful spinning clutch.  The Lexan window is embedded in the milled form making it strong and smooth.
Added bonus for those of you who live in humid or salty regions, the cover seals tight against your engine, preventing any rust from forming on your clutch so it looks great from day 1 and you won't get that squeaky clutch spring sound either.
Made From Billet Aluminum and Lexan weighing in at only 240 grams

| Make | Model | Years |
| --- | --- | --- |
| bimota | db 10 bimotard | 2011 - 2011 |
| bimota | db4 | 1999 - 2001 |
| bimota | db5 | 2005 - 2005 |
| bimota | db6 delirio | 2005 - 2005 |
| bimota | db7 | 2007 - 2008 |
| bimota | db8 | 2010 - 2012 |
| bimota | db9 | 2011 - 2012 |
| bimota | dbx | 2013 - 2013 |
| bimota | tesi | 1990 - 1994 |
| bimota | tesi 2d | 2005 - 2006 |
| ducati | 1098 | 2007 - 2008 |
| ducati | 1098r | 2008 - 2009 |
| ducati | 1098s | 2007 - 2008 |
| ducati | 1198 | 2009 - 2011 |
| ducati | 1198r | 2010 - 2010 |
| ducati | 1198s | 2009 - 2010 |
| ducati | 1198sp | 2011 - 2011 |
| ducati | 748 | 1994 - 2002 |
| ducati | 748r | 1999 - 2003 |
| ducati | 748s | 1994 - 2002 |
| ducati | 749 | 2004 - 2006 |
| ducati | 749 dark | 2004 - 2006 |
| ducati | 749r | 2004 - 2006 |
| ducati | 749s | 2004 - 2006 |
| ducati | 851 | 1988 - 1991 |
| ducati | 888 | 1992 - 1993 |
| ducati | 907 i.e. | 1991 - 1992 |
| ducati | 916 | 1994 - 1998 |
| ducati | 916s | 1994 - 1998 |
| ducati | 996 | 1999 - 2002 |
| ducati | 996s | 1999 - 2002 |
| ducati | 998 | 2002 - 2004 |
| ducati | 998r | 2002 - 2004 |
| ducati | 998s | 2002 - 2004 |
| ducati | 999 | 2003 - 2006 |
| ducati | 999r | 2004 - 2006 |
| ducati | 999s | 2003 - 2007 |
| ducati | hypermotard 1100 | 2008 - 2009 |
| ducati | hypermotard 1100 evo | 2010 - 2011 |
| ducati | hypermotard 1100 evo sp | 2010 - 2012 |
| ducati | hypermotard 1100s | 2008 - 2009 |
| ducati | mh900e | 2002 - 2002 |
| ducati | monster 1000 | 2003 - 2005 |
| ducati | monster 1100 | 2009 - 2011 |
| ducati | monster 1100s | 2009 - 2011 |
| ducati | monster 900 | 1993 - 2002 |
| ducati | monster s2r 1000 | 2006 - 2008 |
| ducati | monster s4 | 2001 - 2003 |
| ducati | monster s4r | 2004 - 2006 |
| ducati | monster s4rs | 2006 - 2008 |
| ducati | monster s4rt | 2007 - 2008 |
| ducati | multistrada 1000 | 2003 - 2006 |
| ducati | paso 906 | 1988 - 1990 |
| ducati | paul smart 1000le | 2006 - 2006 |
| ducati | st2 | 1997 - 2003 |
| ducati | st4 | 1999 - 2003 |
| ducati | st4s | 2002 - 2004 |
| ducati | streetfighter 1098 | 2010 - 2012 |
| ducati | streetfighter 1098s | 2010 - 2012 |
| ducati | supermono | 1993 - 1995 |
| ducati | supersport 1000 / 1000ss | 2003 - 2006 |
| ducati | supersport 900 / 900ss | 1988 - 2002 |
Tags: MPL, Tuning, Clear, Quiet, Clutch, Cover, Type, 2, Ducati, Dry, Clutch