Attack Performance 50mm Clip-ons - Kawasaki, Suzuki, Triumph, Yamaha
---
Brand: Attack Performance
Product Code:

901108.50B

Availability:

2-3 Days

Stock Quantity:

0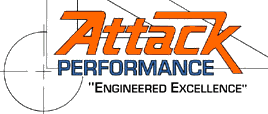 Attack Performance clip-on handlebar kits feature a unique 'clam shell' design engineered for easy, quick and hassle free installation and tear down without the need to remove the top triple clamp.

Available with a 7 degree down angle these billet, adjustable clip-ons allow easy access to pinch bolts for quick length adjustment or bar replacement.

With a high degree of impact survivability, these clip-ons are likely to be the last pair of clip-ons your race bike will ever need.

Also Available in fork leg sizes 51mm, 52mm, 53mm and 55mm.
| Make | Model | Years |
| --- | --- | --- |
| kawasaki | zx-10r | 2004 - 2021 |
| kawasaki | zx-10rr | 2017 - 2021 |
| kawasaki | zx-6r | 2007 - 2012 |
| kawasaki | zx-6r 636 | 2003 - 2006 |
| kawasaki | zx-6r 636 | 2013 - 2021 |
| kawasaki | zx-6rr | 2003 - 2006 |
| suzuki | gsx-r1000 | 2001 - 2021 |
| suzuki | gsx-r1000r | 2017 - 2021 |
| suzuki | gsx-r1000x | 2019 - 2019 |
| suzuki | gsx-r600 | 2001 - 2021 |
| suzuki | gsx-r750 | 2000 - 2021 |
| triumph | daytona 675 | 2006 - 2018 |
| triumph | daytona 675r | 2011 - 2018 |
| yamaha | yzf-r1 | 1998 - 2021 |
| yamaha | yzf-r1m | 2015 - 2021 |
| yamaha | yzf-r1s | 2015 - 2019 |
| yamaha | yzf-r6 | 2006 - 2021 |
Tags: Attack, Performance, 50mm, Clip-ons, Kawasaki, Suzuki, Triumph, Yamaha