Paolo Tex Design Bodykits for Ducati Monster's (02-08)
---
Brand: Paolo Tex
Product Code:

MR-01

Availability:

In Stock

Stock Quantity:

25
Paolo Tex Design Bodykits are HERE!
*BellissiMoto is not responsible for any drool induced damage to computers, smartphones, or tablets.
NOTE: Important Fitment notes at bottom at the page!!

Paolo "Tex" Tesio has turned dream to reality, and is allowing us to share his dream with riders everywhere. His first kit, the "Naked" version, is happily installed on his personal (and totally kick-ass) Monster S4R, shown here with Paolo: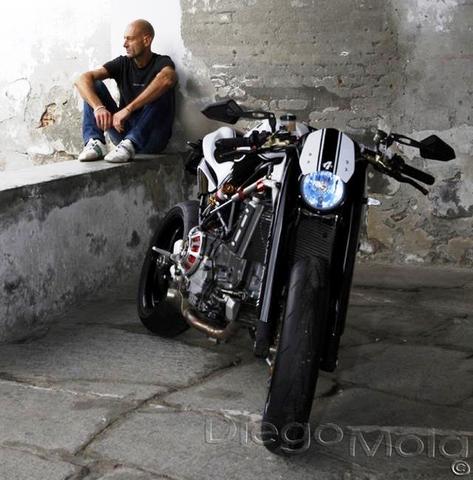 I for one consider us all lucky that Paolo not only shared his awesome
creation with us, but that he actually went through the work to make it possible for us
to use his designs to create our own masterpieces!
Usually the general public would never have an opportunity like this, and to
say that these kit's will be produced in small numbers is an understatement!
I'd be amazed if there will ever be more than 50 of these kits imported to the USA, so don
't delay - order now.
Choose your individual components to create your own kit!
Don't forget to purchase the Flyscreen or number plate mounting kit
(which is not included with the bodywork pieces)
Please note - You may be too busy, not want to, or are simply incapable of building your bike into your dream bike without help from the experts.

The GOOD NEWS is that we CAN BUILD ONE FOR YOU!
We could make it exceptionally lightweight.
With amazing performance and handling.
It doesn't even have to cost all that much!
We could satisfy your inner nerd by making the DUCATRON concept rendering into a reality.
We can even work with Lumilor paints, to make those lines actually light up at your control!
Every detail would be carefully considered - you can expect to be impressed!
Additional Notes:
Bodywork is delivered as unpainted fiberglass, paint or wrap is your responsibility!
Designed around the 03-06 Ducati Monster S4R, But Will Fit other Models with modifications to the bike.
If fitting the Belly Pan MR-07 or Side Panels MR-05 to the S4RS/ S4RT, you will have to Modify (cut) them to fit the larger oil cooler.
To fit the Side Panels MR-05, you will need to source a set of Frame sliders and then cut down the mounts (we have had the best luck with Speedymoto for this)

To install the Tail Fairing MR-01, frame modification is required and you must sacrifice the seat

To fit Belly Pan MR-07, you will need to make your own mounting brackets

Fork covers do include mounting brackets, but you will have to use a smaller 5.75" headlight, along with the BK-03 mounting bracket to hold your gauges, number plate, etc...
we do have Some great LED headlight options from Motodemic, both their Standard LED and their Awesome Adaptive LED, but the mounting kits need to be modified to get them to work
If your Bike has a Cable driven Speedo (like the Monster S4) you may have to replace it with an aftermarket Digital Gauge unit, like the Avia Compositi EVO 2, the Applicable harness, and Mount Plate or the Motogadget MOTOSCOPE PRO to keep things from Hitting/Binding up

In order to keep costs, and shipping to a minimum, a 25% restocking fee may be applied to any returned kits.
| Make | Model | Years |
| --- | --- | --- |
| ducati | monster 1000 | 2003 - 2005 |
| ducati | monster 600 | 2001 - 2001 |
| ducati | monster 620 | 2002 - 2005 |
| ducati | monster 695 | 2008 - 2008 |
| ducati | monster 750 | 2001 - 2001 |
| ducati | monster 800 | 2003 - 2005 |
| ducati | monster 900 | 2002 - 2002 |
| ducati | monster s2r 1000 | 2006 - 2008 |
| ducati | monster s2r 800 | 2005 - 2007 |
| ducati | monster s4 | 2001 - 2003 |
| ducati | monster s4r | 2004 - 2006 |
| ducati | monster s4rs | 2006 - 2008 |
| ducati | monster s4rt | 2007 - 2008 |