MWR Air Filter for the Ducati 848/1098/1198/SF/MTS1200/Diavel
---
Brand: MWR
Product Code:

MC-020-07

Availability:

In Stock

Stock Quantity:

10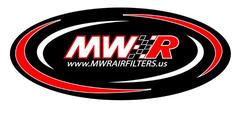 Own a Ducati from 2007-2014 that uses the 848, 1098, or 1198 engine?
If you answered yes, just hand me your money now.
These bikes have a flaw - the stock airfilter (and all the other "high performance" air filters modeled after it) are too narrow to actually seal the edges of the filter to the airbox on each side at once. Dozens of 1098s have lost engines after 15,000 miles due to this problem - solve it now with this filter.
The only reason not to buy this filter is if you would rather purchase the MWR filter pods, which are also a great option for the Ducati 848/1098/1198 and 1098 SF machines.
| Make | Model | Years |
| --- | --- | --- |
| ducati | 1098 | 2007 - 2008 |
| ducati | 1098r | 2008 - 2009 |
| ducati | 1098s | 2007 - 2008 |
| ducati | 1198 | 2009 - 2010 |
| ducati | 1198r | 2010 - 2010 |
| ducati | 1198s | 2009 - 2010 |
| ducati | 1198sp | 2011 - 2011 |
| ducati | 848 | 2008 - 2010 |
| ducati | 848 evo | 2011 - 2013 |
| ducati | diavel | 2011 - 2018 |
| ducati | diavel amg | 2012 - 2013 |
| ducati | diavel carbon | 2011 - 2018 |
| ducati | diavel cromo | 2012 - 2013 |
| ducati | diavel strada | 2013 - 2014 |
| ducati | multistrada 1200 | 2010 - 2014 |
| ducati | multistrada 1200 granturismo | 2013 - 2014 |
| ducati | multistrada 1200 pikes peak | 2012 - 2014 |
| ducati | multistrada 1200s | 2010 - 2014 |
| ducati | multistrada 1200s sport | 2011 - 2013 |
| ducati | multistrada 1200s touring | 2011 - 2012 |
| ducati | streetfighter 1098 | 2010 - 2012 |
| ducati | streetfighter 1098s | 2010 - 2012 |
| ducati | streetfighter 848 | 2012 - 2015 |