MWR Filtercage with Outercover for the Yamaha Tenere 700
---
Brand: MWR Air Filters
Product Code:

MC-097-13

Availability:

5

Stock Quantity:

5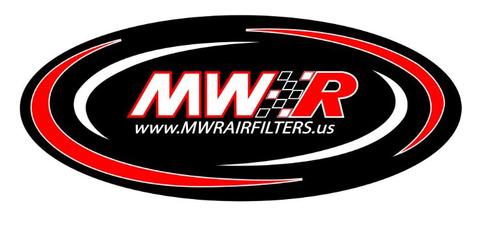 MWR releases the most advanced filter solution for the Tenere 700 with their Filtercage w/Outercover!
Extreme airflow with Extreme Protection. That's what you get with MWR's new Filtercage w/Outercover for the Tenere 700.
The new Filtercage replaces the stock airbox cover/snorkel, and the built-in cage on top houses their special Outercover - just like the Factory Rally Teams use, for extreme protection in all weather conditions!
Air flow is not affected, and in fact will be better than the stock snorkel because the Filtercage has much more surface area than the OEM snorkel.
The beauty of this OUTER COVER design is that you can clean it by just rinsing it with water. No oil is needed. So if you are on the trails and find a water crossing, you can rinse it right then and there without having to carry extra "pre-filters" and extra oil.
Please note, this is not an air filter. It's a Filtercage with Outercover, that replaces your stock snorkel and lid with much higher flow capabilities, and the same extreme protection that professional rally raid teams use. It it still meant to be used with the main filter underneath.
Pair this with MWR's ultra high flow main filter underneath for the ULTIMATE in flow and power! Gains of 3 hp have ben found with a similar MWR combo on the same CP2 engine found in the Yamaha FZ-07!!!
Filter characteristics:
OEM Paper filter: The paper OEM filter gives a very brief warning when it is closed, i.e., full of sand/dirt. The engine runs very smoothly, and if no action is taken immediately, the sand will pass through and it's too late...engine full of sand, and motor is destroyed.
Regular Sports filter (paper): If a regular sports filter is used you will not get any warning at all. The sand will go through it immediately from the first minute without warning, and engine is full of sand - motor destroyed.
MWR Foam Filter: When a foam filter gets dirty, the engine will run very poorly, gasoline consumption will increase drastically until the engine stops at a certain point and cannot get going again. There is nothing yet going on, change filter and drive again.
MWR Filtercage w/ Outercover: This system prolongs the time it takes for the above scenarios to happen. Combined with the MWR main filter, it gives you the best airflow and protection in extreme conditions.
MWR cover will suite also the FZ07/MT07, XSR700, and R7

| Make | Model | Years |
| --- | --- | --- |
| yamaha | FZ-07 / MT-07 | 2014 - 2022 |
| yamaha | tenere 700 | 2019 - 2022 |
| yamaha | xsr700 | 2015 - 2022 |
| yamaha | yzf-r7 | 2021 - 2023 |
Tags: MWR, Filter, Cage, outer, Cover, Kit, Yamaha, Tenere, 700