CARBONSMITH / MWR Racing Intake Solution (RIS) for Yamaha FZ-07/MT-07
---
Brand: CARBONSMITH
Product Code:

CS / MWR RIS

Availability:

1-2 Weeks

Stock Quantity:

0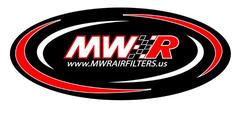 It's here! CarbonSmith and MWR Air Filters have teamed up to create an incredible Racing Intake Solution (RIS) for your Yamaha FZ-07/MT-07.
The CarbonSmith / MWR RIS was born out of competition. Not happy with the current offerings on the market, CarbonSmith set out to develop and produce high flow velocity stacks for the Yamaha MT07/FZ07 to replace the OEM rubber stacks.
When paired with the 63 mm Angled POD filter by MWR, this combination will increase peak HP and TQ gains compared to OEM, especially above 8500 RPM.
We saw a 4 hp gain over the competition without changing the existing tune using the standard MWR Performance filter material.
But we weren't going to stop there. After testing was completed and results brought to MWR, they decided even MORE gains can be had and made us the 63mm Angled POD filter in their RACE material!
MWR's RACE material is the air filter material used in all their WSBK filters - proven in Jonathan Rea's Factory Kawasaki Superbike that won the World Superbike Championship the last 5 years in a row!
The CarbonSmith / MWR Racing Intake Solution is meant for competition on closed courses, and you will notice increased power and torque in the upper rpm range. However, we know some of you will want to use this system on your street bikes, so we are offering it with a variety of options:
Short Stack - designed for shorty GP exhaust systems (most systems for the FZ-07/MT-07 are this type)
Long Stack - designed for longer piped exhaust systems
Performance Filter Material - high flow material good for 8-12 months before cleaning and re-oiling
RACE Filter Material - Ultra high flow material, meant to be cleaned and re-oiled after every race weekend
Street users should choose the Performance Filter Material for longer intervals between cleaning and re-oiling, and select stack length based on exhaust type (most likely the short stack).
Race users for competition should choose the RACE Filter Material, and select stack length based on exhaust type.
Engine tuning is essential for all combinations of the CarbonSmith / MWR Racing Intake Solution. We recommend Rapid Bike for this purpose, sold separately.
Note: Does not come with a Crank Case Vent Catch Can. There are so many ways do do this, from a simple vent tube going to a filter, or a vent tube going to a catch can of different shapes, we wanted to leave it up to the customer to find the best solution for their application.
Hose Clamps not included.
| Make | Model | Years |
| --- | --- | --- |
| yamaha | FZ-07 / MT-07 | 2014 - 2020 |
Tags: CARBONSMITH, MWR, Racing, Intake, Solution, RIS, Air, Filter, Velocity, Stack, Yamaha FZ-07, MT-07