FF By Fresco Slip-on TRIPLE SLASH Exhaust for MV Agusta F3 675/800, Brutale, SuperVeloce, And Dragster 800 2017+
---
Brand: CNC Racing
Product Code:

TS-TiBlu

Availability:

4

Stock Quantity:

4

We love Awesome Bikes with Awesome parts, and Apparently so do the French! FF By Fresco is an Exhaust Project that brings an OE look to Your favorite european bikes with an AWESOME flare!!!
Words cant describe the BEAUTY of the Triple Slash in Titanium - IN FRIKEN BLUE!!!!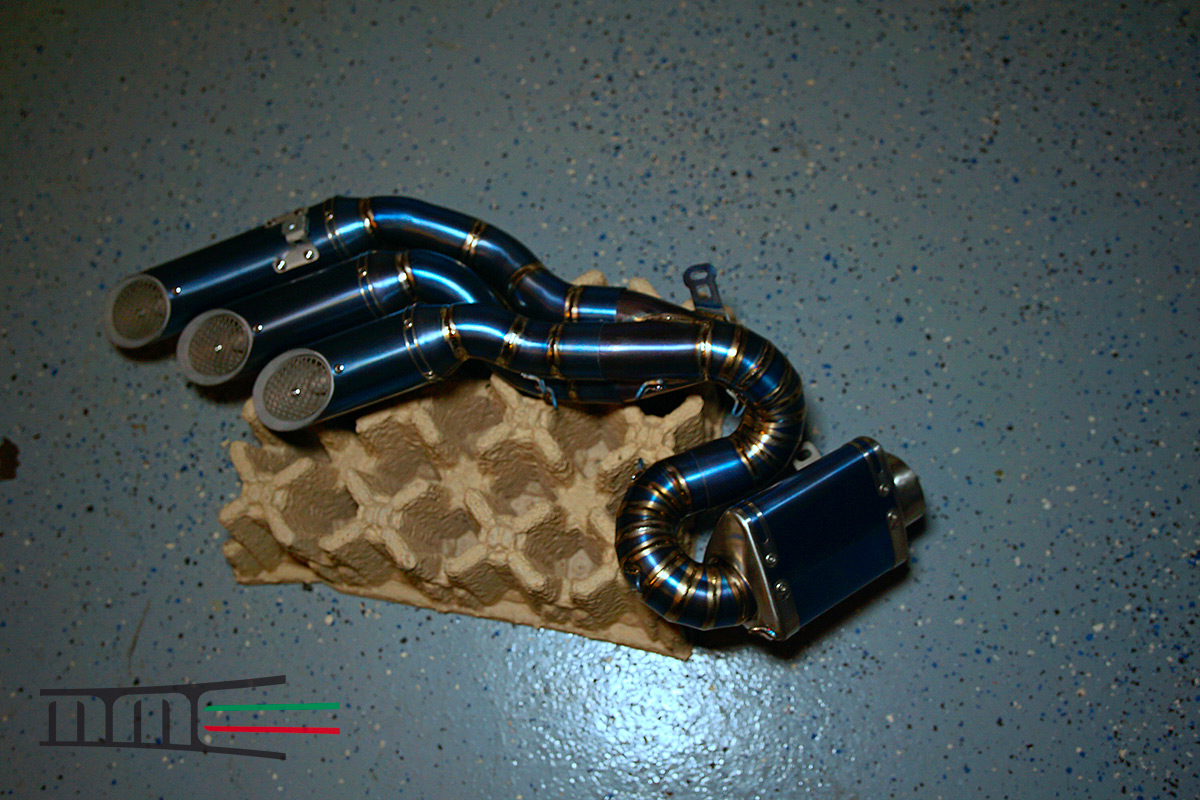 Ends are Capped with a Fine Mesh, for a Moto-GP racing look. Available in Titanium and Stainless with a black Ceramic Coat. Each Kit replaces the Giant Udder under your bike with a Beautiful System consisting of a Matched Pre-muffler and Beautiful snake style welding.
Sound and Performance wise, they are comparable to most Slip-on systems, but will Definitely turn more heads!

| Make | Model | Years |
| --- | --- | --- |
| mv agusta | brutale 675 | 2012 - 2016 |
| mv agusta | brutale 800 | 2013 - 2021 |
| mv agusta | brutale 800 rc | 2017 - 2021 |
| mv agusta | brutale 800 rr | 2016 - 2021 |
| mv agusta | dragster 800 | 2014 - 2021 |
| mv agusta | dragster 800 rc | 2018 - 2021 |
| mv agusta | dragster 800 rr | 2015 - 2021 |
| mv agusta | f3 675 | 2012 - 2021 |
| mv agusta | f3 675 rc | 2017 - 2021 |
| mv agusta | f3 800 | 2013 - 2021 |
| mv agusta | f3 800 rc | 2017 - 2021 |
| mv agusta | RVS #1 | 2018 - 2019 |
| mv agusta | superveloce 800 | 2019 - 2021 |
Tags: FF, Fresco, Slip-on, TRIPLE, SLASH, Exhaust, MV, Agusta, F3, 675, 800, Brutale, SuperVeloce, Dragster, 800