Mithos RCP18AIR Tech-Air Compatible CUSTOM Race Suit
---
Brand: Mithos
Product Code:

RCP18AIR

Availability:

4-6 Weeks

Stock Quantity:

0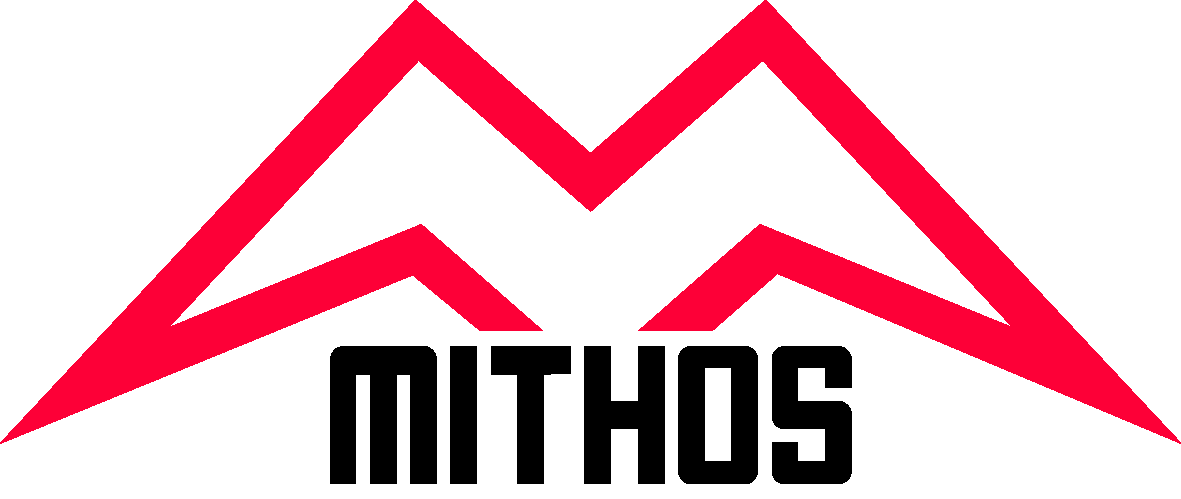 Built from feedbacks from top level racers like Edgar Pons, and together with a German motorsport textile engineer, Mithos-Sports was started in 2014 by Bruno Zimmerline out of his home town of Zurich, Switzerland. While he would not settle for anything less than perfect, Bruno also reached out to two time Champion and team owner Sito Pons for input. Together, they had one vision, and that was to make a perfect race suit.
This has been realized in the new MITHOS Race Suit. You can now have a FULLY TAILORED, CUSTOM FIT, Tech-Air compatible race suit made specifically for you for LESS than a comparable Tech-Air solution. Best of all is YOU design it!!! Any color, any combo, any logo's you want. Are you a racer? Litter it with all your sponsors' logos. Not a racer? Design your own logo's. It's now possible with Mithos!!!
30 precise measurements are taken to get you a perfectly fitting suit (and if it doesn't fit your first alteration is FREE). You can choose COMFORT FIT if your more of a casual track day rider, street rider, or someone who is on and off the bike a lot, or choose RACE FIT which has a bit more pre-curve to make that race tuck feel more natural.
Also optional is Kangaroo leather. Soft, supple, and lighter than cowhide, it's what the pros wear. The fact that it's even an option is amazing!
In addition, get a Mithos Gear Bag for 50% off with the purchase with any Mithos Suit. Totally worth it at full retail of $99.95, but at half off it's truly an awesome deal!
DESIGN YOUR OWN SUIT
Colors and patterns. Download template A (right click and "Save image as..."). Use your imagination and design the color and lines you want your suit to have. Our past customer suits are a great way to get inspirations and ideas. However, if you don't have the artistic eye you can leave it up to us to design one for you. Let us know what color you like (base, accent, trim) and we'll get it handled by our design team.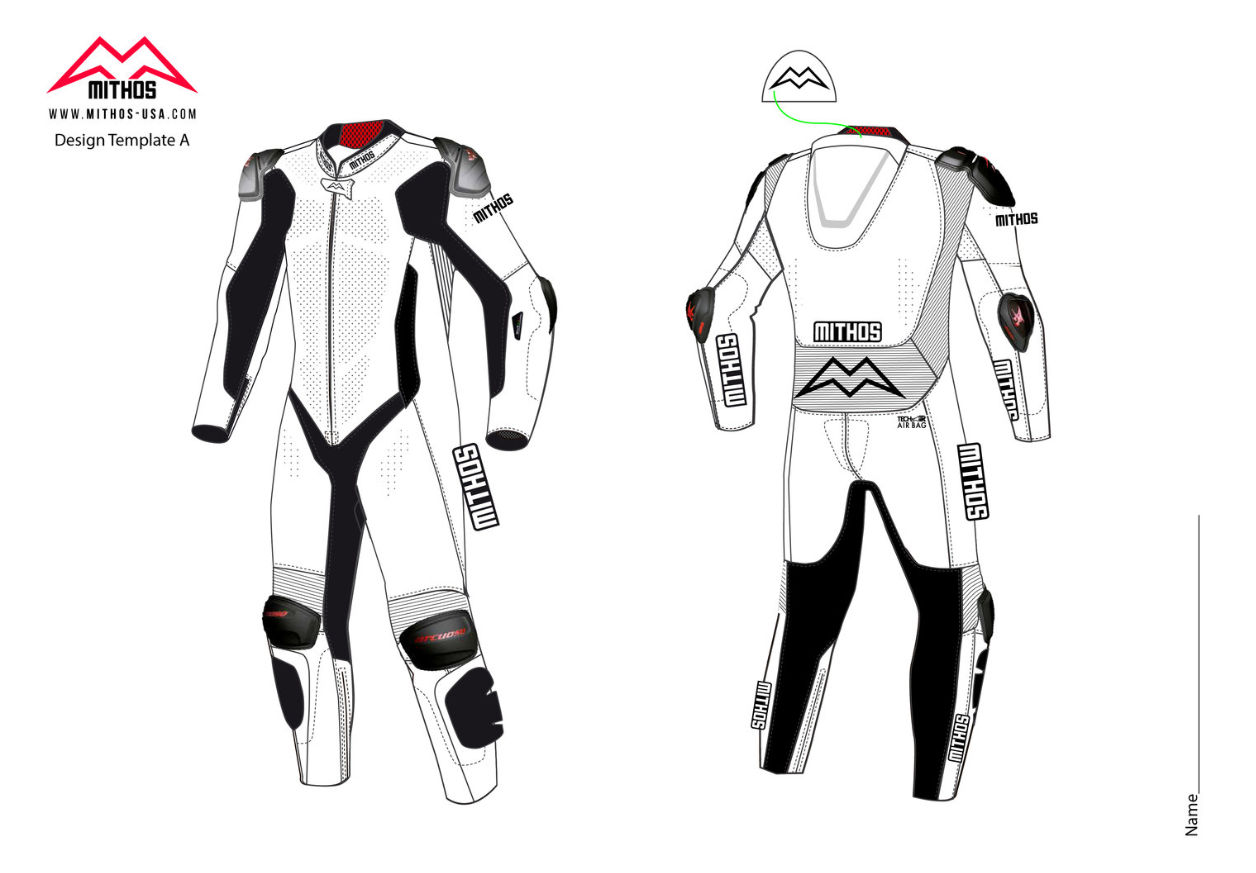 Name, logos and sponsors. Download template B (right click and "Save image as..."). Let us know where to insert your logos, name, nick name and sponsors. Keep in mind you don't have to fill all the spaces. Be sure to email us your hi res art files.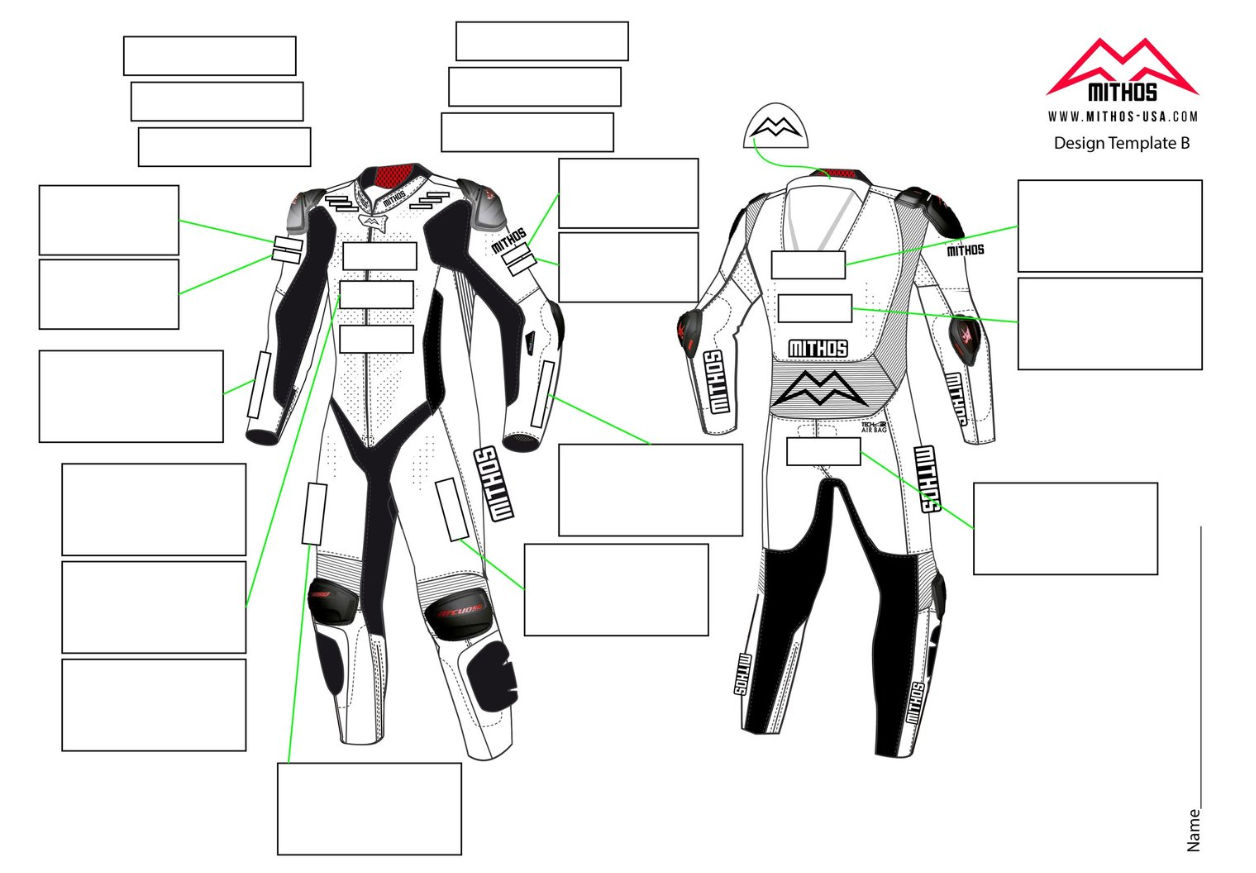 Qualities

- Soft, ventilated and with temperfoam backed areas on the collarbone and on the side of the back area
- Interchangeable knee slider
- Double leather inserts at elbow, knees and buttocks
- Supplied bag at the SAS-TEC CP-1 chest protector, optional retrofittabe
- All seams at least twice sutile

Hard shell
- TPU D64 hard shells
- On shoulders, elbows and knees
- At the Moto2 world championship successfull tested
- Highly elastic, impact-resistant and light
- Good abrasiveness
- In combination with high-strenght polyamide-fibres
- Honeycomb structure in favour of lightness and from stability
- Impact-test are showing effective energy absorption structures from the honeycomb structure
- Elbow hard shell with interchangeable elbow grinder

Protectors
- High quality and individual positionable
- According to standard, EN 1621-1 certified joint-protectors of SASTEC
- On shoulders, elbows, knees and back

Temperature exchange
- Strategic placed, seamless and individual developed perforation
- Aerodynamic backstool with ventilation and perforation in the upper part
-> Extensive ventilation of the back can be equipped with water bag
- Opening for water hose is on the upper side from the hump
- Removable antibacterial lining
- Elactics insets
- 3D-meshinsets
-> Better temperature regulation, decreased sweating

Wearability
- Stretchable neoprene- and meshinsets on the collar for better comfort
- Mobility and comfort because of elastic leather parts in lenght and also in width
-> Large freedom to move in the lower back and also in the chest and arm area
- Stretchable Schoeller Keprotec-Stretch-Areas in sleeves and lateral front part
- Stretchable Schoeller Keprotec-Stretch-Areas in the rear knee area
- Comfortable carrying feeling in the boot

Material
- Extreme resistant and comfortable ca. 1,2 mm cow leather
- Flexible Schoeller Key-Stretch pattern pieces in lateral front part, crotch area , sleeves and knee

ALPINESTARS TECH-AIR™ BAG SYSTEM

The Tech-Air™ System has been designed to be used in conjunction with airbag-compatible outer Leathersuits.

Comprehensive inflatable upper body protection for back, shoulders, kidney area, chest and upper abdomen.

Electronic sensors are securely and unobtrusively incorporated within the system's chassis (in the shoulder area), meaning the vest is completely self-contained and allows it to be worn interchangeably between compatible Suits.

Constructed from a strong and durable mesh main shell with stretch poly-fabric on shoulders and torso for a compact and secure fit that is close to the rider's body while allowing complete freedom of movement.

Incorporates removable inner mesh and elastic Velcro® waistband to position airbag system to customize fit and improve adjustability.

Full internal back lining constructed from 3D mesh for optimized levels of ventilation and breathability.

The Airbag Control Unit (ACU) of Tech-Air™ is incorporated within strong, lightweight polymer back protector, which features an ergonomic plate construction for structural strength and a fit to follow the natural contours of the back.

Tech-Air™ ACU is seal-protected within vest to ensure its all-weather performance and the vest and componentry are certified to function between -10⁰C and +50⁰C.

Tech-Air™ uses an integrated, certified lithium ion battery, with a battery life of 25 hours and a recharge time of approximately 6 hours. Micro USB charger allows convenient recharging of system, with one hour of charging time giving four hours of riding coverages.

Argon inflator cartridges are CE certified to ISO 14451 standard, meaning that they will only fire if commanded by the electronic unit. It also certifies that the cartridges can be safely handled, assembled and transported.

Tech-Air™ is Category II CE Certified to the 686/89/EEC European PPE Directive, using a version of EN1621- 4:2013, which guarantees impact protection performance from 25 milliseconds to 5 seconds.

Certified to function at -10°C and +50°C to guarantee system's use in wide range of weather conditions.

Tech-Air™ design and manufacture is CE certified to the 2007/23/EC pyrotechnic directive, guaranteeing it has been assembled following all pyrotechnic handling and safety regulations.
Note: Tech-Air™ safety system is sold separately.