SUOMY SR Sport Carbon Full
---
Brand: SUOMY
Product Code:

01-1005

Availability:

2-3 Days

Stock Quantity:

0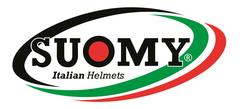 SUOMY SR Sport Carbon Full
The ALL NEW SR Sport Carbon series has landed! Approximately 15% lighter than the much loved SR Sport, this helmet ranges in weight from approximately 1250 to 1325 grams depending your choice of size, while retaining the much loved features of our previous SR Sport helmet.

Several MotoGP and WSBK Champions chose SUOMY for their entire campaign, including the likes of Dovizioso, Biaggi, Capirossi, Rins, Kornfeil, Fabrizio, and several others, but one name sticks out to me - Capirossi... Loris had a VERY LONG career of racing motorcycles at the top level, and only recently retired into a role as the Chief Safety Officer for MotoGP. Well Capirossi doesn't race anymore, but he still rides with SUOMY and that's a serious endorsement given his position!

This exact helmet is also the choice of our General Manager Lyle Collotzi, because it has excellent visibility, is stupidly lightweight, looks fantastic, and is amazingly comfortable! It also works great with his SENA C10

The all new SR Sport Carbon helmet is a testament to Suomy's commitment to excellence, innovation, and dominating competitions!
For instance:
Arai released a $4,000 carbon helmet.
AGV offers the $1400 Pista GP.
SUOMY offers the SR Sport Carbon Series from just $599, and it weighs less than any of it's DOT Approved competitors!
Suomy is a true innovator for new standards is safety! Because Suomy is never satisfied, they have developed these revolutionary Carbon Fiber shells to be the most durable, lightweight shells available and have now set the standard for premium helmets. Race approved by every major US and International Race Organization.
Lightest Weight Competition Approved Helmet!
Includes a clear visor, don't forget to order an additional tinted visor!
Aggressive styling for greatest visual impact.
Dynamically Variable Resistance Crush Zone (DVRC).
Sound absorbing polymers.
Advanced channeled EPS for optimum venting.
Thermal formed LEXAN shield (no side covers for quick and easy removal) with permanent Anti-Fog/Anti-Scratch treatment.
Safety lock shield system.
Interior made with Coolmax Active fabric: moisture-wicking breathable fabric keeps the rider cool, dry and comfortable.
DOT approved and ECE 22.05 certified.
Race approved by every major US and International Race Organization.

For proper fit and size measure the circumference of your head 1" above your eyebrows and around the largest portion of the back of your head.
20 3/4" - 21 1/4"........X-Small
21 1/4" - 22"............Small
22" - 22 1/2"............Medium
22 7/8" - 23 1/4"........Large
23 5/8" - 24"............X-Large
24" - 24 3/8"............XX-Large