Termignoni Dual Race Cones for Triumph Thruxton (2016+)
---
Brand: Termignoni
Product Code:

T01008040IIA

Availability:

1-3 Weeks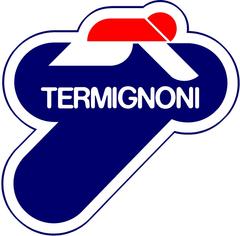 INTRODUCTORY SALE! Retail is $1159.95, but order yours soon and save $160 because our introductory special pricing is just $999.95!
The British haven't made exciting, stylish, powerful exhausts in years.
Thankfully Termignoni is an Italian company, and being Italian means blending speed with style, history with modern fashion.
The design is well executed, with top quality Stainless Steel construction and beautifully machined billet endcaps.

The twin cans on their own, with no other modification are good for a gain of approximately 2.5 HP throughout the entire rpm range.
Torque gains are even more impressive. Just imagine the extra power once you also open the intake with an MWR Air Filter, and correct the fueling with a RapidBike EVO Fuel Control Module.

Add some Italian sex appeal to your Thruxton today!